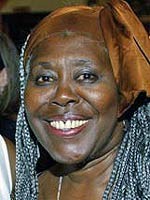 Dr. Barbara Ann Teer was an African-American writer, producer, teacher, actress and visionary. In 1968, she founded Harlem's National Black Theatre, the first revenue-generating black theater arts complex in the United States.
Teer was born in East St. Louis, Illinois, to Fred L. and Lila B. Teer, well known as dedicated educators and community leaders. Early in her life, Teer demonstrated extraordinary gifts and talents. By the age 15, she had graduated from Lincoln High School in East St. Louis. At 19, she graduated Magna Cum Laude with a bachelor's degree in dance education from the University of Illinois, Urbana-Champaign. After graduation, she began traveled to study dance with Antoin Decroaux in Paris with Mary Wigman in Berlin.
She later settled in New York City, where she pursued a career as a professional dancer. She studied with Alwin Nikolais at the Henry Street Playhouse and Syvilla Fort (Katherine Dunham Technique). She toured with the Alvin Ailey Dance Company, Louis Johnson Dance Company, and the Pearl Bailey Las Vegas Revue. In 1961, Teer made her Broadway debut as dance captain in the Tony award-winning musical Kwamina, which was choreographed by Agnes de Mille.
In 1963, she co-founded The Group Theatre Workshop with Robert Hooks, which later became the Negro Ensemble Company. In 1968, with the emerging cultural consciousness of the African experience, Teer decided to found a new theatrical institution committed to cultural transformation, social change, and historical innovation within African-American communities.
During the late 1960s, Teer founded the National Black Theatre (NBT). The organization continued to be a fertile training ground for actors, singers, dancers, and musicians within the Harlem community and beyond throughout the 1970s. In 1974, Teer also founded the Children's School for the Development of Intuitive and God-Conscious Art (CSDIG).
In May 1994, Teer was awarded an honorary doctorate degree from the University of Rochester, New York; in 1995, she received an honorary doctorate degree of humane letters from the University of Southern Illinois. Teer is included in Who's Who Worldwide, which recognizes her as a global business leader and has received more than sixty awards and citations. Dr. Barbara Ann Teer died on July 21, 2008.
sources: