Baseball legend Henry Louis "Hank" Aaron is one of the greatest players to ever hit the field. Aaron played 21 seasons for the Milwaukee/Atlanta Braves in the National League and two seasons for the Milwaukee Brewers in the American League. Aaron has been ranked 5th on the list of "100 Greatest Baseball Players."
Aaron was born on February 5, 1934, to Herbert and Estella Aaron. He grew up in Mobile, Alabama, at a time when the living in the South was quite difficult. He had seven siblings, including brother "Tommie Aaron," who also played in MLB.
Aaron had a love for playing baseball at an early age. His family was poor and could not afford baseball equipment, so he practiced hitting bottle caps with sticks and later created his own bats and balls with materials he found. He attended Central High School as a freshman and sophomore.
At the age of fifteen, Aaron tried out for the Brooklyn Dodgers, but did not make the team. During the time, high schools did not have organized baseball, so he played outfield and third base for the Mobile Black Bears, a semipro team. While on the Bears, Aaron earned $3 per game, which was a dollar more than he got while on the Athletics. His minor league career began in 1951 when baseball scout Ed Scott signed him to a contract for the Indianapolis Clowns of the Negro American League; he played for 3 months. He was the last Negro league baseball player on a major league roster.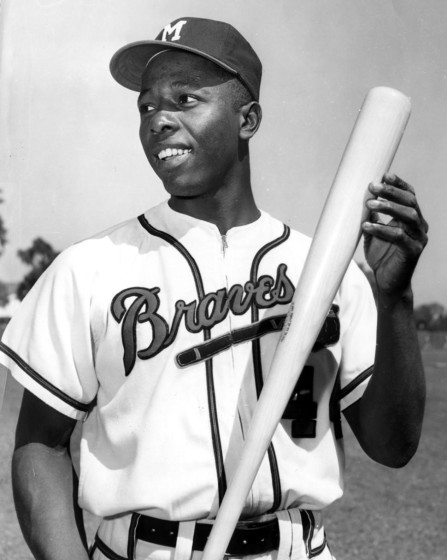 On March 13, 1954, Milwaukee Braves left fielder Bobby Thomson fractured his ankle while sliding into second base during a spring training game. The next day, Aaron made his first spring training start for the Braves' major league team, playing in left field and hitting a home run. This led to a major league contract for Aaron.
During his rookie year, he picked up nicknames, "Hammerin' Hank" (by teammates) and "Bad Henry" (by opposing pitchers). Aaron holds the record for the most seasons as an All-Star (21), the most All-Star Game selections (25), and is tied with Willie Mays and Stan Musial for the most All-Star Games played (24). He was a Gold Glove winner for three seasons.
Although he was well-loved by many, he received tons of hate mail. At one time, there was so much mail arriving for Aaron that a secretary had to be hired to help him sort through it. As he closed in on breaking "Babe Ruth's" record in 1974, the number of letters increased. Aaron began to fear for his life during that time.
In 1974, Aaron ultimately surpassed Babe Ruth's record of 714 home runs, finishing with a total of 755. For more than three decades, Aaron maintained this record until August 7, 2007, when Barry Bonds hit his 756th home run in San Francisco, California.
Even today, Aaron still holds many of baseball's most distinguished honors, including runs batted in (2,297), extra-base hits (1,477), total bases (6,856) and most years with 30 or more home runs (15). Aaron also ranks among the Top 5 in career hits (3,771) and runs (2,174).
After retiring as an athlete, Aaron worked as executive vice president of the Atlanta Braves and became a leading spokesman for minority hiring in baseball. In 1982, he was elected to the Baseball Hall of Fame, and in 2002, he was honored with the Presidential Medal of Freedom. In January 2016, Aaron was awarded the Japanese Order of the Rising Sun, Gold Rays with Rosette.
sources:
http://www.thebaseballpage.com/players/aaronha01/bio
http://www.biography.com/people/hank-aaron-9173497