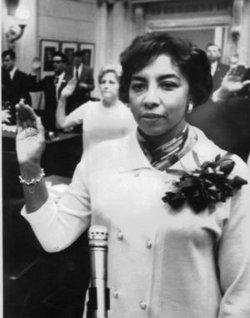 Hannah Diggs Atkins was the first black woman elected to the Oklahoma House of Representatives. She served from 1968 to 1980. She was later appointed to the simultaneous positions of Secretary of State of Oklahoma and Secretary of Social Services, establishing her as the highest-ranked female in Oklahoma state government until she retired in 1991.
Atkins was born as Hannah Diggs on November 1, 1923 in Winston-Salem, North Carolina, to James and Mabel Diggs; she was the fifth of six children. Atkins attended St. Augustine College in Raleigh, North Carolina, in 1943, where she graduated with a Bachelor's degree. She also earned a Bachelor's degree in library science from the University of Chicago in 1949. Atkins continued her studies at the University of Oklahoma and graduated with a Master's degree in Public Administration in 1989.
After college, Atkins became a reference librarian in 1949 at Fisk University in Nashville. She later moved back to her hometown, Winston-Salem, North Carolina, where she became the librarian at Kimberley Park Elementary.
In 1953, the Atkins and her husband, Charles, moved west to Oklahoma. Atkins became a branch librarian for the Oklahoma City Public Library until 1956. After a few years, she worked her way up to chief of general reference and acting law librarian. She became an instructor of law, as well as an instructor of library science, at Oklahoma City University.
She later became the first black woman to be elected to the Oklahoma House of Representatives, where she served from 1968 until 1980 as the representative from the 97th District. During her tenure, she authored many important bills. She fought for health care, child welfare, mental health reform, women's rights and civil rights.<
In 1980, she was named to the General Assembly of the 35th Session of the United Nations by President Jimmy Carter. She was a member of the Third Committee, which concentrated on social and economic issues.
Following her assignment at the United Nations, she returned to Oklahoma. Between September and December 1982, she served as a consultant to the Oklahoma Corporation Commission.
Throughout her career, Hannah Atkins acquired numerous awards and honors. She was inducted into the Oklahoma Women's Hall of Fame in 1982 and the Oklahoma Afro-American Hall of Fame 1983. Hannah Diggs Atkins died in 2010, she was 86.
source:
info.library.okstate.edu/scua/home/