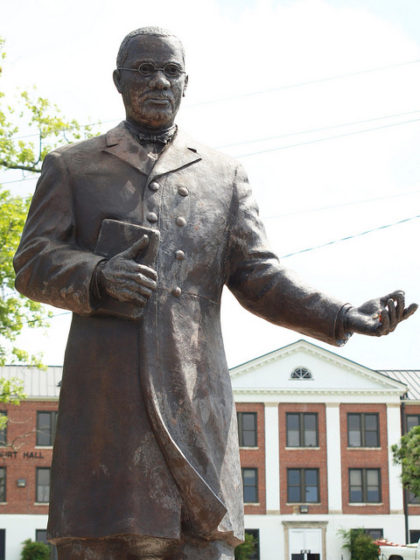 William Hooper Councill was an editor and race leader was born into slavery in Fayetteville, North Carolina on July 12, 1849. Both his parents were slaves and when Council was just five years old, his father escaped to Canada. His father tried unsuccessfully to obtain the freedom of his family. In 1857, Council along with his mother and siblings were sold separately.
When Union troops occupied Chattanooga, Tennessee during the Civil War, Council and his family escaped through Union lines to the North. He returned to Alabama in 1865 to attend a school for freedmen that had been started by Quakers. This would be Council's only formal schooling. He worked and studied for three years before graduating in 1867.
For several years Council worked as a teacher in the black public schools in Alabama while moonlighting as a porter in hotels and restaurants. In 1869, at the age of 22, he opened Lincoln School in Huntsville for black children in the region.
Councill's ambitions extended into politics and he became the chief enrolling clerk of the Alabama House of Representatives between 1872 and 1874. He also served as secretary of a national civil rights convention in 1873.
The Alabama legislature appointed 26 year old Councill as the first principal of the State Colored Normal School at Huntsville, which is now known as Alabama A&M University. The school opened on May 1, 1875 with an appropriation of $1,000 in the basement of a Huntsville church. The Colored Normal School trained black teachers to work in Alabama's segregated school system. By the mid 1880s, it rivaled Tuskegee Institute in central Alabama as vocational-industrial training facility.
Councill founded the Huntsville Herald in 1877, which he published and edited until 1884. On April 9, 1909, William Hooper Councill died at the age of 61.
sources: