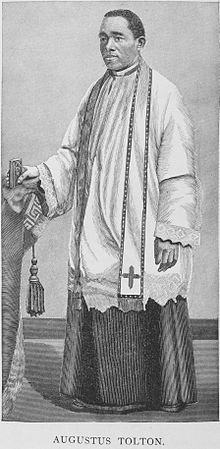 Augustine Tolton, was the first Roman Catholic priest in the United States publicly known to be black when he was ordained in 1886.
Tolton was born in Missouri to Peter Paul Tolton and his wife Martha Jane Chisley, who were enslaved. His mother, who was reared Catholic, named him after an uncle named Augustus. He was baptized Augustine in St. Peter's Catholic Church in Brush Creek, Missouri, a community about 12 miles from Hannibal. His master was Stephen Elliott. Savilla Elliot, his master's wife, stood as Tolton's godmother.
He was ordained in Rome on Easter Sunday of 1886 at the Archbasilica of St. John Lateran. Assigned to the diocese of Alton (now the Diocese of Springfield), Tolton first ministered to his home parish in Quincy, Illinois. Later assigned to Chicago, Tolton led the development and construction of St. Monica's Catholic Church as a black "national parish church", completed in 1893 at 36th and Dearborn Streets on Chicago's South Side.
Tolton began to be plagued by "spells of illness" in 1893. Because of them, he was forced to take a temporary leave of absence from his duties at St. Monica's Parish in 1895.
At the age of 43, on July 8, 1897, he collapsed and died the following day at Mercy Hospital as a result of the heat wave in Chicago in 1897. After a funeral which included 100 priests.
source:
https://en.wikipedia.org/wiki/Augustus_Tolton