In the early morning of June 2, 1895, Houston Osborne, a young African-American man, broke into Frieda Kachel's bedroom in her St. Paul home. When Kachel screamed, Osborne ran; he was caught and hanged from a cottonwood tree but let down while he was still alive. He died in prison eighteen months later.
Osborne was born in Tennessee in 1867, however, very little else is known about his early life. He often drifted around the country working sometimes as a waiter. He arrived in the Twin Cities in the spring of 1895.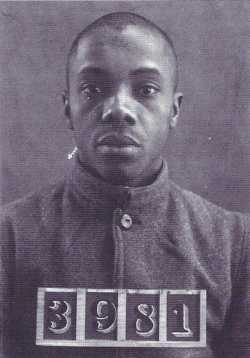 In the early hours of the morning of June 2, fifteen-year-old Frieda Kachel, sleeping in her house at the northeast corner of Lexington Avenue and Iglehart Street in St. Paul, Minnesota awoke to find Osborne in her room, his hand over her mouth. She screamed, and her two sisters and brother Anton, were awaken. Osborne took off running west toward what was then open country.
Anton Kachel pursued Osborne, along with his brother-in-law and a neighbor. The three men also enlisted the help of some dairymen out with their animals. Osborne was later reported to be suffering from tuberculosis, press reports stated that the chase went on for over a mile until he was caught and taken to the corner of Lexington and Iglehart.
A crowd of about a dozen people gathered. Anton Kachel fetched a long piece of window sash cord. As Osborne pleaded for his life, men pulled him to a cottonwood tree behind the house he had broken into. They tied one end of the rope around his neck and tossed the other over a bough. Osborne's feet were off the ground and his body twitching when Augusta Horst, a married older sister of Frieda Kachel's, persuaded the men to let him down. They then used the same rope to bind him and lead him to the Rondo Street police station.
Lawyer Fredrick McGhee, one of St. Paul best defense attorneys, undertook Osborne's defense. The grand jury charged him with burglary and indecent assault. Though McGhee was known for taking his cases to trial, he quickly negotiated a guilty plea to the burglary charge (breaking and entering for the purpose of committing a felony). On June 24, Houston Osborne received a ten-year sentence; he arrived at Stillwater Prison one week later. He died 18 months later from tuberculosis.
source:
story found at:
http://www.mnopedia.org/event/near-lynching-houston-osborne-1895