Charles Parker, Jr., also known as Bird or Yardbird was an extraordinaire American alto saxophonist, composer, bandleader, and a lyric artist. He is considered the greatest jazz saxophonist of all time.
Parker was born August 29, 1920, in Kansas City, Kansas. He grew up during the time when jazz was prevalent throughout the state. By the time he was 13, he was already playing alto saxophone. At the age of 14, he quit school to began performing in youth bands. He married at the age of 16, the first of four marriages.
The most significant of his early stylistic influences were both the tenor saxophone innovator, Lester Young, and the advanced swing era alto saxophonist, Buster Smith. Parker played in their band during the late 1930s. Years later, he experienced a personal stylistic breakthrough during a jam session in New York City. He described this moment of revelation in Hear Me Talkin' to Ya.
Parker recorded his first solos as a member of Jay McShann's band, with whom he toured the eastern United States in 1940 to 1942. It was at this time that his childhood nickname "Yardbird" was shortened to "Bird."
He formed a friendship with trumpeter Dizzy Gillespie, which led Parker to develop new music in avant-garde jam sessions in New York's Harlem. In 1944, they formed their own small ensemble, the first working bebop group.
Parker became addicted to drugs for several years. While working in Los Angeles in 1946, he collapsed as a result of his alcohol and heroin addictions and was later confined to a state mental hospital. He stayed for six months and after his release, he formed his own quintet, which included trumpeter Miles Davis and drummer Max Roach. He went on to make several recordings for Savoy and Dial labels in the mid-1940s.
Parker's most popular records, recorded in 1949 to 1950, featured popular song themes and brief improvisations accompanied by a string orchestra. Parker died in 1955.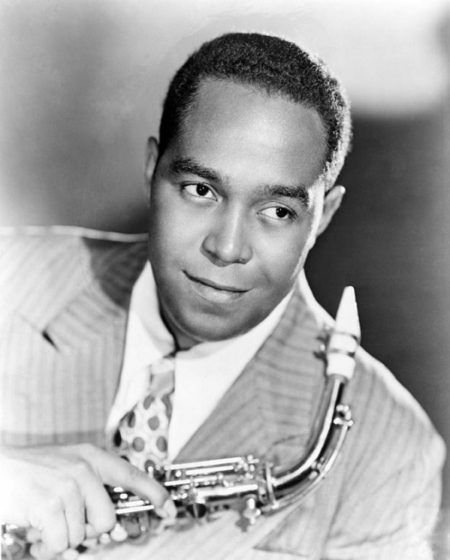 source:
http://cmgww.com/music/parker/about/biography.html