"I was not trying to break the color barrier. But when I applied to NC State, that's what came out in the newspapers all over the state. Everyone was so happy about it that I really didn't have a choice." -Irwin Holmes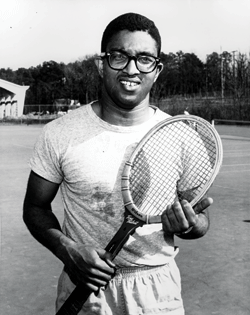 Irwin Holmes grew up in Durham, NC, at a time when segregation was a way of life in the South. He was a top high-school student and athlete, starring in several varsity sports and graduating third in his class. Holmes had a dream of becoming an engineer. So, he applied to NC A&T and Howard University, both historically African-American institutions. But that was not the only schools that caught his eye, he was also attracted to the top engineering program at all-white NC State.
Holmes became one of the four black students to enroll at NC State in 1956. Until 1960, when he walked out of NC State with a bachelor's degree in electrical engineering, the university had never had an African-American graduate. However, Holmes endured quite a bit of hardship before getting that degree in hand.
One of the professors at the school continued to give him poor grades for good work, he also received whispers behind his back along with countless stares and cheap hits on the intramural football field. Holmes did not allow this to stop him from achieving his goals and for the most part most of his fellow classmates stuck up for him.
Holmes went on to be the first African-American to play on a Wolfpack athletic team. While on the tennis squad he served as co-captain. However, he also played several other sports. During one incident while playing intramural basketball, Holmes was dribbling out the clock when a player on the other team's bench jumped up and slugged him from behind. No technical foul was called. Also during another time, after executing a good block on the intramural football field, another player illegally leveled him as he ran out for a pass. His teammates, unwilling to accept the cheap hit, later returned the favor on the other team.
After graduation, Holmes went on to earn a master's degree in electrical engineering from Drexel University. He then worked for several companies before landing at IBM. He spent 19 years there and contributed to several high-profile computer projects.
Video: Youtube