On March 3, 1970 the Lamar Riot in South Carolina took place. It has been described as one of the most violent acts against a court-ordered school desegregation in the state. The violence occured when an angry mob of white parents armed with axe handles, bricks, and chains overturned two school buses that had delivered black students to Lamar elementary and high schools in Darlington County.
Prior months before the riot, the United States Fourth Circuit Court of Appeals had ordered the Darlington County schools to immediately increase integration among students and teachers. The court had struck down the county's 1965 "freedom of choice" plan that allowed whites and blacks to attend schools of their choice. But in Lamar, a rural community of 1,350 people, one elementary school had nine black students and a high school had ten black students. On the other side of town Spaulding elementary and high schools had no white students. The court ordered that integration take place no later than February 18, 1970. White parents said that the court should wait until the following school year to put the order into effect. They were further enraged by the county's school attendance zones. Allegedly, lines were drawn to keep the children of prominent white residents out of black schools.
The white opposition group was led by Jeryl Best, a building contractor and restaurant owner. They pushed for a boycott to close the schools. They hoped that if low attendance closed the schools the county would have no choice but to reopen them under the freedom-of-choice plan. Black parents were urged to keep their children out of the schools unless the federal courts promised protection.
On March 3, 1970 about 150 to 200 men and women clashed with about 150 South Carolina highway patrolmen and agents with the South Carolina Law Enforcement Division (SLED). Demonstrators and police received minor injuries, and flying glass cut some students when the mob smashed the bus windows. One rioter fired a gunshot during the thirty-five-minute fight. Police responded by firing tear gas into the crowd. Of the forty men charged after the riot, three were sentenced to jail.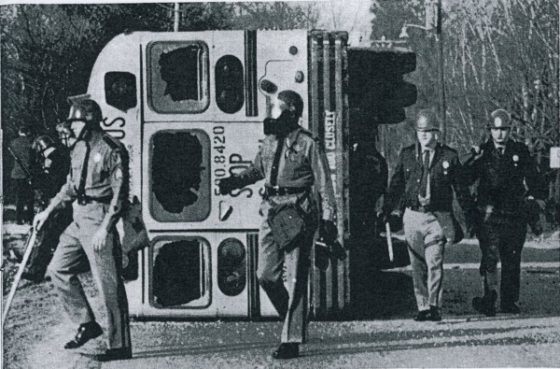 source:
https://en.wikipedia.org/wiki/Lamar,_South_Carolina