Long before Emmett Till, Medgar Evers, and Johnny Bright, Jack Trice became a skilled martyr. His legacy was soon forgotten and name practically erased from history. Trice was a young man with a promising football career, but something horribly went wrong, and his life was abruptly ended.
Trice became the first African-American athlete at Iowa State College. At the height of his short athletic career, he was also the only black athlete competing in sports for any of the Big Six Conference schools.
Jack was born in Hiram, Ohio, in 1902. He was the son of a former slave and Buffalo Soldier. As a young child, Trice participated in sports and was known to have outstanding athletic skills. In 1918, Trice moved to Cleveland, Ohio, to live with an uncle. He attended East Technical High School where he played football. In 1922, Trice followed five of his teammates, as well as his former high school coach, Sam Willaman, to Iowa State College in Ames, Iowa.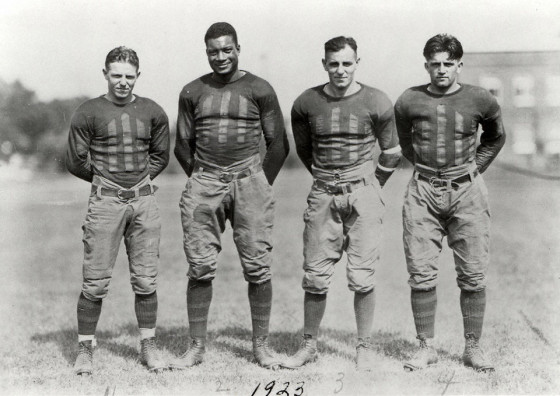 While attending Iowa State College, Trice majored in animal husbandry and participated in sports. His plans were to move South after graduating to work with black farmers.
On October 5, 1923, the night before his second college football game, Trice wrote the following while at a racially segregated hotel in Minneapolis/St. Paul. The letter was found before his funeral.
"My thoughts just before the first real college game of my life: The honor of my race, family & self is at stake. Everyone is expecting me to do big things. I will. My whole body and soul are to be thrown recklessly about the field tomorrow. Every time the ball is snapped, I will be trying to do more than my part. On all defensive plays I must break through the opponents' line and stop the play in their territory. Beware of mass interference. Fight low, with your eyes open and toward the play. Watch out for crossbucks and reverse end runs. Be on your toes every minute if you expect to make good."  
On October 6, 1923, Trice and his Iowa State College teammates played against the University of Minnesota in Minneapolis, Minnesota. During the second play of the game, Trice's collarbone was broken. Trice insisted he was all right and returned to the game. In the third quarter, while attempting to tackle a University of Minnesota ball carrier by throwing a roll block, Trice was trampled by three Minnesota players. Although he claimed to be fine, Trice was removed from the game and sent to a Minneapolis hospital. The doctors declared him fit to travel and he returned by train to Ames with his teammates.
On October 8, 1923, Trice died from hemorrhaged lungs and internal bleeding as a result of the injuries sustained during the game. Iowa did not renew their contract to play against Minnesota after the injuries to Trice. They did not play again until 1989.
source:
http://aaregistry.org/historic_events/view/jack-trice-isu-football-legend