Even in Vietnam when we musicians laid down our instruments and picked up a weapon, we still had each others' backs. There was no time for racism to be between people. – James Richardson
James Richardson became the first black marine drum major. Richardson joined the marines as an infantryman in 1958. One day while stacking crates in a warehouse at Camp Lejeune, he saw a small band march by. Intrigued by the band, he decided to go down, volunteer, and eventually enrolled in the School of Music in Norfolk, Virginia..
Shortly after his assignment to Camp Lejeune, Richardson was deployed to the Vietnam War. Up to this point, Richardson said he hadn't experienced any real racial biases, both ashore and abroad.  It was not until returning from Vietnam and receiving orders to Parris Island that he became the band's' drum major. There was very little opposition and no one seemed to mind that the band was being led by a black drum major.
After his time at Parris Island, Richardson was deployed to Vietnam again, after which he received orders to head to Iwakuni, Japan, to lead the III Marine Expeditionary Force Band. After his time there, Richardson returned to the School of Music for an intermediate course and once again transferred to Camp Lejeune, leading the 2nd Marine Division Band as well as the Bugle Corps.
It was during this time that Richardson discovered that he was the first black drum major. It was a breakthrough for the Marine Corps band as a whole. Most of the confrontation was not by the members of the band, but from the public who attended their performances. Each town had different attitudes about the band; no matter what happened while they were performing. the band always kept a level head about the situation.
Richardson retired from the Marine Corps in 1978 to return to school, eventually earning a degree in business administration.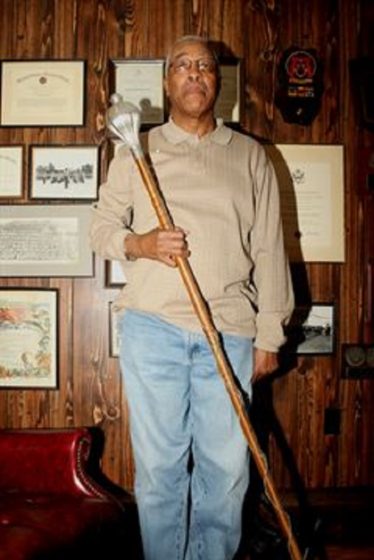 source:
http://www.lejeune.marines.mil/News/tabid/1099/Article/512258/first-black-marine-drum-major-tells-his-story.aspx