Jacob Lawrence was an African-American painter known for his "Migration Series" of Black life. He was 23 years old when he gained national recognition for his 60-panel Migration Series, which shows the details of the Great Migration of Blacks in the South and urban North.
Born in 1917 in Atlantic City, New Jersey Lawrence's family moved to New York at the age of 13. While growing up in the city, he was introduced to art. His mother signed him up for arts and crafts classes to keep him busy and out of trouble.
He later dropped out of school at the age of 16, and became a worker in a laundry and printing plant. Lawrence enrolled at the Harlem Community Art Center, led by the sculptor Augusta Savage. Savage later secured Lawrence  education with a scholarship to the American Artists School and a paid position with the Works Progress Administration, established during the Great Depression by the Franklin D. Roosevelt administration.  In 1941, he married the painter Gwendolyn Knight, who was also a student of Augusta Savage.
Lawrence completed his best-known series, Migration of the Negro or simply The Migration Series, in 1941. The series was exhibited at Edith Halpert's Downtown Gallery in 1942, making him the first African-American to join the gallery.
In 1970, Lawrence moved to Washington state, as he had been invited to join the professorship at University of Washington. During his time in the Pacific Northwest, he did a series of five paintings on the westward journey of African-American pioneer, George Washington Bush. This series is part of the collection of the State of Washington History Museum. He taught at several universities and continued to paint until his death in 2000.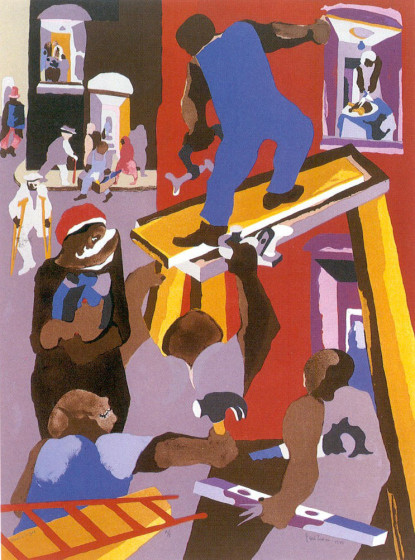 source:
http://www.biography.com/people/jacob-lawrence-9375562
http://arthistory.about.com/cs/namesll/p/lawrence_j.htm