Born February 11, 1920 at Pensacola, Florida, he learned to fly while attending the Tuskegee Institute and after graduation in 1942 continued civilian flight training until he received appointment as a Cadet in the Army Air Corps in January 1943.
He was commissioned in July 1943 and throughout the remainder of World War II he trained pilots for the all-black 99th Pursuit Squardon and worked in other assignments. He was subsequently stationed in Ohio and in the Philippines.During the Korean War he flew 101 missions in fighters. From 1953 to 1956 he was at Otis Air Force Base, Massachusetts, receiving promotion to Major in that period.
On graduating from the Air Command-Staff School in 1957, he was assigned to staff duty in Washington.From 1960 to 1964, he was stationed in England and from 1964 to 1966 in Arizona and in 1966-67 in Vietnam where he flew 78 combat missions.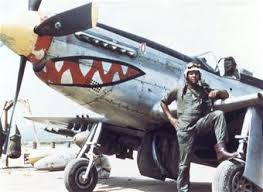 By then a Colonel, he was Vice Commander of the 33rd Tactical Fighter Wing, Elgin Air Force Base, Florida, in 1967-69, and then promoted to Brigadier General, was named base commander of Wheelus Air Force Base in Libya.In March 1970 be became Deputy Assistant Secretary of Defense for Public Affairs and advanced to Major General.
In September 1974, with the rank of Lieutenant General, he became Vice Commander of the Military Airlift Command at Scott Air Force Base, Illinois.In September 1975 he became the first black officer in the history of the United States military to attain 4-star full General rank. At that time he was named Commander of the North American Air Defense Command (NORAD), with responsibility for all aspects of the air defense of the United States and Canada.
He was also much-sought after as a public speaker and devoted considerable time to addressing youth groups, particularly minority students.He died shortly after his retirement from the Air Force of a heart attack in Colorado Springs, Colorado. His private memorial in Section 2 of Arlington National Cemetery says, in part: