John Robert Clifford was a well-known attorney throughout the state of West Virginia. He won a trailblazing victory in Williams vs Board of Education that found discriminatory practices in public education illegal.
Clifford was born in 1848 in Williamsport, Virginia. His parents and grandparents were free blacks who had lived in Virginia for several generations. Since there were no schools for black children in the area, Clifford's parents arranged for him to go to Chicago to attend school.
At the age of 15, Clifford enlisted in the United States Colored Troops and served in Company F, 13th Regiment of Heavy Artillery. After the Civil War, he became a barber and also operated writing schools in Ohio and West Virginia. He later in enrolled in Storer College. After earning his degree in 1877, he became a teacher and later the principal of a segregated school for blacks in Martinsburg, West Virginia.
In 1882, Clifford began to publish "The Pioneer Press," a newspaper that was distributed throughout the black community. It was the longest running weekly newspaper dedicated to the black issues during that time. In 1887, he became the first black attorney admitted to the West Virginia State Bar. He practiced law for the next 45 years. He was also among the founders of the Niagra Movement.
In 1898, Clifford won a landmark civil rights and education case before the West Virginia Supreme Court of Appeals. In Williams v. Board of Education, Clifford argued against the Tucker County Board of Education's decision to shorten the school year for African-American school children from nine months to five months, keeping a full term for white students. Clifford won the case at a jury trial and then won again before the West Virginia Supreme Court of Appeals. Clifford's win was decades before "Brown v. Board of Education." Clifford died at the age of 85 in 1933.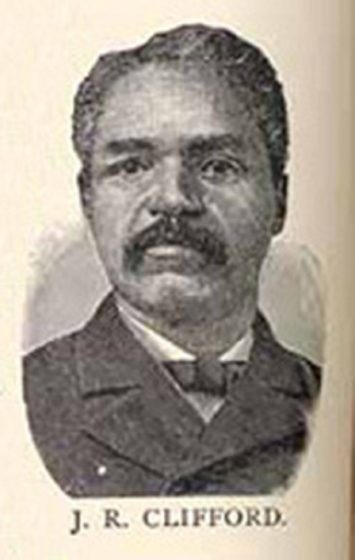 source:
http://www.arlingtoncemetery.net/jrclifford.htm