In 1951, Drake University's football team was undefeated before they faced off against Oklahoma A&M in Stillwater. Drake went into the game with the nation's leading player at the time, Johnny Bright. Bright was the first Black college football player to play at Oklahoma's Lewis Field in 1949, during which he led the NCAA in total offense as the first sophomore in history. In 1950, he set a NCAA record of 2,400 yards, and was led the 1951 NCAA in total offense, scoring, and rushing.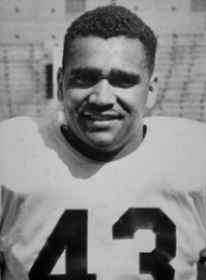 However, what happened on the field on October 20, 1951, highlighted racial tensions and achieved national notoriety. During the first seven minutes of the game, Bright was knocked unconscious three times by blows from a white Oklahoma A&M defensive tackle named Wilbanks Smith. Although Smith's blow broke Bright's jaw, he managed to complete a 61-yard touchdown pass a few plays later.
Nevertheless, the injury forced him to leave the game before it ended. This was the first time in his football career at Drake that Bright ended a game under 100 yards. Drake ultimately lost to Oklahoma A&M 27 to 14, which ended the team's winning streak.
A six-photograph sequence of the incident captured by Des Moines Register cameramen John Robinson and Don Ultang clearly showed that Smith's jaw-breaking blow was thrown well after Bright had handed the ball off to Drake fullback Gene Macomber, after the play. Before the game started, Robinson and Ultang had actually set up a camera to focus specifically on Bright due to the numerous rumors stating that Bright had been frequently targeted on the field. They rushed the film to Des Moines as soon as Bright was knocked out of the game.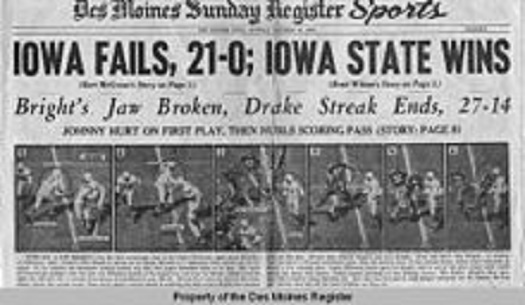 Bright's broken jaw limited his effectiveness for the remainder of his senior season at Drake. Nevertheless, he earned 70 percent of the yards Drake gained and scored 70 percent of the Bulldogs' points, despite missing the better part of the final three games of the season. Bright finished fifth in the balloting for the 1951 Heisman Trophy and played in the post-season East-West Shrine Game and the Hula Bowl. The incident eventually provoked changes in NCAA football rules regarding illegal blocking, and mandated the use of more protective helmets with face guards.
Following his 1952 graduation from Drake, Bright went on to enjoy a 12-year professional football career in the Canadian Football League. He retired in 1964 as the CFL's all-time leading rusher, and was inducted into the Canadian Football Hall of Fame in 1970.
source:
http://www.figah.us/Bright__Johnny.html