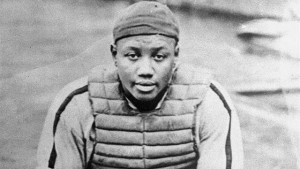 Often it is difficult to distinguish fact from fiction — especially regarding statistics — when it comes to players of the Negro League. But there is no disputing the accomplishments of Josh Gibson, whose batting feats are legendary.
Before dying at age 35, three months before Jackie Robinson's major-league debut, Josh Gibson had proven to Negro League followers that he was one of the game's greats.
Voted into the Hall of Fame in 1972 by the Committee on Negro Baseball Leagues, the right-handed hitting catcher never received the opportunity to show his stuff in the major leagues because he was an African-American. He died at the age of 35 in early 1947, three months before Jackie Robinson made his historic major-league debut with the Brooklyn Dodgers.
Gibson is often referred to as the black Babe Ruth for his ability to hit tape-measure homers, and he also hit for incredibly high averages.
"He hits the ball a mile," Hall of Famer Walter Johnson, the Washington Senators pitcher who won 416 games, said of Gibson.
Satchel Paige, who was Gibson's teammate on the Pittsburgh Crawfords and later pitched for the Cleveland Indians, said, "He was the greatest hitter who ever lived."
In various publications, the 6-foot-1, 215-pounder has been credited with as many as 84 homers in one season. His Hall of Fame plaque says he hit "almost 800" homers in his 17-year career. His lifetime batting average was higher than .350, with one book putting it at .384, best in Negro League history.
It was reported that he won nine home-run titles and four batting championships playing for the Crawfords and the Homestead Grays. In two seasons in the late 1930s, it was written that not only did he hit higher than .400, but his slugging percentage was above 1.000.
Belting home runs of more than 500 feet was not unusual for Gibson. One homer in Monessen, Pa., reportedly was measured at 575 feet. The Sporting News of June 3, 1967 credits Gibson with a home run in a Negro League game at Yankee Stadium that struck two feet from the top of the wall circling the center field bleachers, about 580 feet from home plate. Although it has never been conclusively proven, Chicago American Giants infielder Jack Marshall said Gibson slugged one over the third deck next to the left field bullpen in 1934.
Read More @https://espn.go.com/sportscentury/features/00016050.html