Judge Israel Augustine, Jr., was the first African American district judge in Louisiana.
Augustine was born in New Orleans, Louisiana. He was a graduate of McDonogh 35 High School he received a B. A. from Southern University in Baton Rouge, Louisiana. He obtained his law degree from Lincoln University in St. Louis, Missouri. In 1951, he was admitted to the Louisiana Bar and in 1962, he was allowed to practice before the Supreme Court.
In 1970, Israel M. Augustine, Jr. became the first Black elected as judge in Criminal District Court. In 1971, he presided over the Black Panther Trial, a case that brought him national attention.
Judge Augustine surprised many observers by being elected last year to a 12‐year term on the Criminal Court bench. Gov. John J. McKeithen ap pointed him as a judge in 1969. The Governor said he had been impressed with his efforts to calm a student up rising at Southern University in New Orleans that year.
Augustine was general counsel of the Southern Christian Leader ship Conference for six years and a friend of the Rev. Dr. Martin Luther King Jr., who was president of the conference at the time of his death. He established several community programs such as "Roots" Home Coming Program, the First Offender and Angola Awareness. Judge Augustine died of Lou Gehrig's disease on August 29, 1994.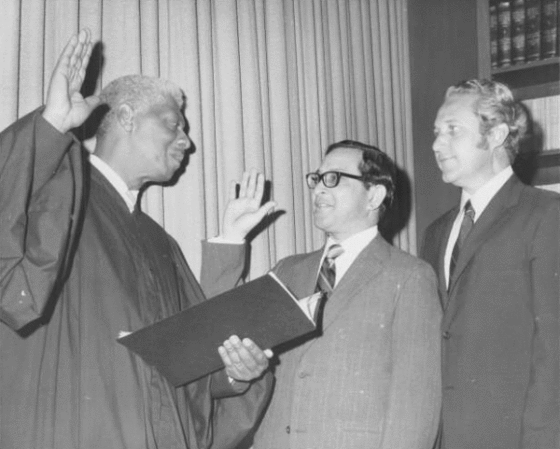 source:
http://www.aaregistry.org/historic_events/view/first-louisianas-bench-israel-augustine-jr