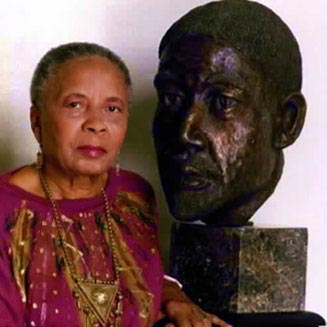 Margaret Taylor-Burroughs was an American visual artist, writer, poet, educator, and arts organizer. She is widely recognized as the co-founder of the Ebony Museum of Chicago, now the DuSable Museum of African American History.
Burroughs was born as Victoria Margaret Taylor on November 1, 1915, in St. Rose, Louisiana. Her father worked as a farmer and laborer at a railroad warehouse, and her mother was a domestic. At the age of five, her family moved to Chicago, where she attended Englewood High School along with famous poet Gwendolyn Brooks. The two joined the NAACP Youth Council.
In 1946, Taylor-Burroughs earned a Bachelor of Arts degree in Art Education from the School of the Art Institute of Chicago, where she also earned her Master of Arts degree in 1948. Taylor-Burroughs spent time in the classroom after receiving her degree. She taught at DuSable High School in Chicago from 1946 to 1969, and from 1969 to 1979, she was a professor at Kennedy-King College. She later taught African American Art and Culture at Elmhurst College.
Taylor-Burroughs also served as the Chicago Park District Commissioner, a position she held until 2010.
She along with her husband co-founded what is now the DuSable Museum of African-American History in Chicago in 1961. It was originally known as the Ebony Museum of Negro History and Art. Burroughs served as Executive Director until she retired in 1985, and was then named Director Emeritus, remaining active in the museum's operations and fundraising efforts.
She also created many of her own works of art. In one of Burroughs' linocuts, Birthday Party, both black and white children are seen celebrating. Her art themes often consisted of history, family, and community life.
Taylor-Burroughs was awarded various accolades throughout her career, such as the Paul Robeson Award in 1989. In 2010, she was granted The Legends and Legacy Award, a program of the Leadership Advisory Committee of the Art Institute of Chicago. In 2015, she was inducted into the Chicago Literary Hall of Fame.
Margaret Taylor-Burroughs died on November 21, 2010, she was 95.
sources:
http://blackartblog.blackartdepot.com/black-art-news/margaret-burroughs-dies.html
http://www.thehistorymakers.com/biography/margaret-burroughs-40