Etta Moten Barnett was an African American actress and contralto vocalist. She was best known for her signature role of "Bess" in Porgy and Bess.
Etta was born in Weimar, Texas, and was the only child of a Methodist minister, Rev. Freeman Moten, and his wife Ida. Etta started singing as a young girl in the church choir. She later attended Western University, a historically black college in Quindara, Kansas, where she studied music. However, she completed her education at the University of Kansas, where she earned a B.A. in voice and drama in 1931.
Moten later moved to New York City, where she performed as a soloist with Eva Jessye Choir. On January 31, 1933, Moten became the first black star to perform at the White House. In 1933, she stood in for Ginger Rogers by dubbing her singing in Professional Sweetheart. In the 1942 revival of Porgy and Bess, she accepted the role of "Bess," but she would not sing the n-word, which Ira Gershwin later wrote out of the libretto. In 1952, she stopped performing due to vocal problems.
Etta married Claude Barnett, founder of the Negro Associated Press. Together, they worked to focus on philanthropic efforts. They traveled during the late 1950s as members of U.S. delegation to Ghana. She also represented the United States at the independence ceremonies of Nigeria, Zambia and Lusaka. After her husband died in 1967, she lived in Chicago, where she became active in the National Council of Negro Women, the Chicago Lyric Opera, and the Field Museum, the DuSable Museum, and the South Side Community Art Center.
She was also awarded various accolades, such as honorary degrees from Spelman College, the University of Illinois, and Lincoln University; an award from Atlanta University for her contributions to American music; and a scholarship for minority students was named in her honor at the Chicago Academy for the Performing Arts. Barnett died in 2004 at the age of 102.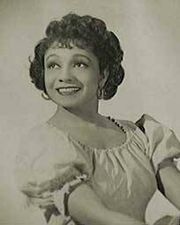 source:
http://www.thehistorymakers.com/biography/etta-moten-barnett-40