BY WALTER OPINDE 
On this day, 1st July, 1915, an African-American blues musician, vocalist, songwriter, arranger, and record producer, Willie James Dixon was born.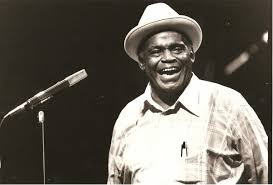 As one of the greatest American songwriters of all times, Willie Dixon was a bright, self-confident, determined, intelligent, and gifted man who helped the Blues evolve from the 1940's through the 1980's. Born as the seventh of fourteen children in Vicksburg, Mississippi, Dixon was greatly influenced by his mother, Daisy, who turned everything she said into rhymes, and Willie learned to do the same. However, his first real musical influence came at the age of seven, when he often left school to follow a truck pulling a band behind it starring pianist- Little Brother Montgomery. As a youth, Dixon sang with the Union Jubilee Singers, a gospel quartet with its own radio program.
At the age of 17 years, Dixon left his hometown of Vicksburg for the busy streets of Chicago to become a boxer. One year later, he was named the Illinois State Golden Gloves Heavyweight Champion. Although he had earlier succeeded as a boxer, he only fought four fights during his pro career because of a money dispute with his manager, which ended whatever dreams Dixon may have had as a boxer. After boxing, Dixon began his musical career by forming the Five Breezes in 1940 with Leonard "Baby Doo" Caston. They recorded songs until 1941 when Willie was arrested for refusing to serve in the U.S. Armed Forces. After finishing his sentence, Dixon formed a new group, the Four Jumps of Jive, which mainly performed in Chicago clubs and later recorded for Mercury.
In 1945 'Baby Doo' and Willie teamed up to form the Big Three Trio along with guitarist Benardo Dennis. The Big Three primarily played for the white audiences, but they would also join Muddy Waters in late night jam sessions. "With a repertoire of soft blues, boogie woogie, pop, and novelty numbers, the Big Three landed a recording contract first with Bullet Records, and then in 1947 with Columbia Records." While playing with the Big Three Trio, Dixon met Phil and Leonard Chess, two guys who had recently started Chess Records. They hired Dixon part-time, but after the Big Three Trio broke up, he went to work for them full time.
A major difference between Dixon and other blues men was his ability to read, write, compose, and arrange music, which made him the mainstay of Chess Records ("Willie Dixon"). Dixon was also considered the backbone of the Chess operation. He stayed with them until 1957 when he decided to switch to Cobra Records. However, Cobra only lasted two years due to financial difficulties, so Dixon returned to Chess and stayed there throughout most of the 1960s. Throughout the 1970s, Dixon toured regularly and released albums on the Ovation, Columbia, and Yamboo labels. In 1980, Dixon was inducted into the Blues Foundation's Hall of Fame and in 1982, Dixon set up the Blues Heaven Foundation to help musicians and their estates claim their due- the "Dixon Dodges Glare of New Recordings Spotlight." In 1987, Dixon had bypassed a surgery, putting a halt on his career. However, in 1988 he released Hidden Charms with Bug/Capitol, and in 1989, Dixon published his autobiography, I Am the Blues, co-authored by Don Snowden. He also appeared in the films, Raw Justice (1994), News Crews of Good Cop, Bad Cop (1994), Night of the Warrior (1991) Willie Dixon, and Rich Girl (1990) himself. As well, he wrote original music for the movie Ginger Ale Afternoon (1989). Throughout his career, Willie was well-known and was branded as a "powerhouse who set music into motion."
Read more of the story via:
http://www.encyclopedia.com/people/literature-and-arts/music-popular-and-jazz-biographies/willie-dixon
http://msbluestrail.org/blues-trail-markers/willie-dixon
https://genius.com/artists/Willie-dixon