Lewis "Lew" Lynch attended Ohio State University before entering military service as an Aviation Cadet in 1942. After pilot training at Tuskegee, he was commissioned as an officer and assigned Walterboro Army Air Field, South Carolina.
From the time, Lewis was four years old, all he dreamed of doing with his life was becoming a pilot. He took night courses at Ohio State University while working first on the railroad and then as a porter in a theater, fought the U.S. Army's admission policy on height (he'd twice been denied entry for being too tall, even though there were taller pilots than him who had already received their wings). However, he did not give up and later finally made it into a plane.
Lynch became one of several outstanding pilots of the 332nd who progressed into jet fighters-F-80s, T-33s, F-84s, F-94s and F-100s. He served at Williams Air Force Base, Arizona: Hamilton Air Force Base, CA; Eielson Air Force Base, AK; and Bunker Hill Air Force Base, Indiana. Lynch completed Air Traffic Controllers and Procurement Officers Schools and was assigned to Military  Air Lift Command.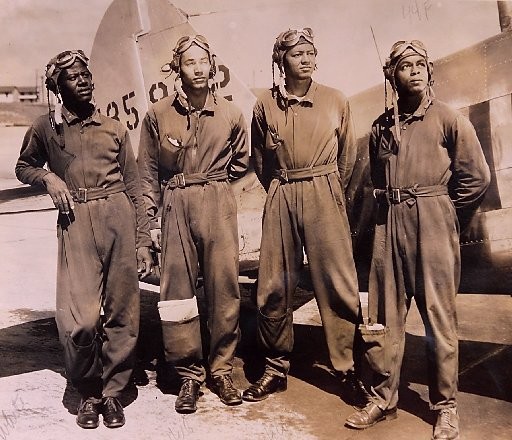 source:
http://www.riverfronttimes.com/stlouis/tuskegee-airman-lewis-lynch-an-appreciation/Content?oid=2479175