Lillian Evans Evanti was a lyric soprano and the first African-American to sing opera with an organized company in Europe.
Evanti was born into a prominent family in Washington, D.C. in 1891. Her father was a medical doctor and teacher, and mother taught music in the public school system.
Evanti attended Armstrong Technical High School, and graduated from Howard University in 1917 with her Bachelor's degree in music. A gifted student and performer, she was able to speak and sing in five different languages.
She married one of her music professors at Howard University, Roy W. Tibbs, The couple had a son, Thurlow Tibbs.
Some of her most notable performances occurred in Italy and France, including the Casino Theater in Nice (1925) and the Trianon Lyrique in Paris (1927). In 1932, Evanti made her debut at Washington, D.C. Town Hall, and gave recitals throughout America, Europe, and the Caribbean.
She was honored at the Franklin Roosevelt White House in 1934, and won critical acclaim for her role as Violetta in the National Negro Opera Company's production of Verdi's La Traviata in 1943. Lillian Evans Evanti died on December 6, 1967, in Washington D.C.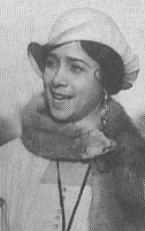 source:
http://www.blackpast.org/aah/evans-annie-evanti-lillian-1891-1967