Lillie M. Carroll Jackson was a member of the NAACP and an early civil rights leader. Jackson's commitment to fighting segregation began with a medical crisis in 1918.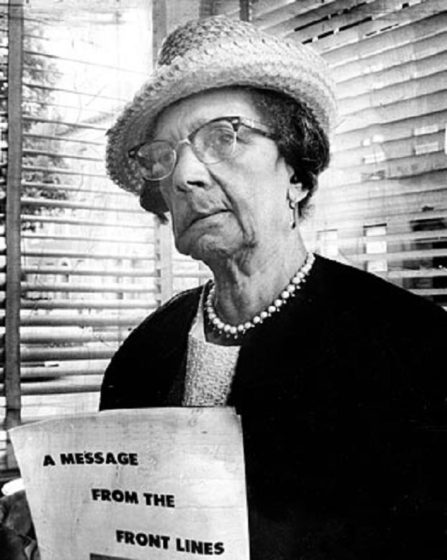 Jackson was born in 1889 in Baltimore, Maryland, to Charles Henry and Amanda Bowen Carroll. Her father was Methodist minister Charles Henry Carroll. Lillie Jackson was educated in Baltimore's Colored High School and graduated in 1908. After high school, she taught in the Black school system in Baltimore.
She married in 1919 to Keiffer Jackson and later traveled with him, singing and lecturing, while he showed his films to church groups. After the birth of their first child, Virginia, the Jacksons returned to Baltimore.
Jackson's life changed in 1918. Before emergency surgery for mastoiditis, Jackson prayed to God to spare her life so that she might raise her children. In return, she vowed a lifetime of service. After the surgery, the doctor told Jackson he had to removed more decayed bone from her head than he thought was possible for survival. Despite her facial disfigurement by the surgery, Jackson kept her promise to God.
She became a successful businesswoman with rental properties. She had acquired financial independence and had time to carry out her commitment to serve. She became the first woman to serve on the board of trustees for the Sharp Street Memorial Methodist Episcopal Church. She also sponsored the City-Wide Young Peoples Forum.
In 1935, she accepted an invitation to revive the local NAACP chapter. She was its president until 1970, building the organization to a peak membership of 17,600. There was constant threats of violence in order to keep Jim Crow in place, however, she still worked to bring steady pressure against segregation. She was often referred to as "Mother of Freedom," and "that NAACP lady" by her opponents. She ran the Baltimore branch for 35 years, and led the organization in picketing one "Whites-only" theater for six straight years before the management gave in. She was often heard saying: "God helps those who help themselves."
She was unanimously re-elected president of the Baltimore branch of the NAACP each year during her tenure. As organizer and president of the Maryland State Conference of NAACP branches, she was elected to the National Board of Directors in 1948. With the support of the churches and the Afro-American newspaper, the branch became one of the largest and strongest in the nation. Under her leadership, the NAACP in Maryland got the city to put Black policemen in uniforms for the first time.
Jackson also organized a school to prepare black citizens for the civil service examinations that had to be taken by those who wanted to become police officers. One of the first students to enroll in the school was Bishop Robinson, who later became the first black police commissioner for the City of Baltimore and secretary of Public Safety and Correctional Services.
Under Jackson's leadership, the first public pools, parks, and civil service jobs were also finally opened to Black residents. Lillie M. Carroll Jackson died in 1975.
source:
http://msa.maryland.gov/msa/educ/exhibits/womenshall/html/jackson.html