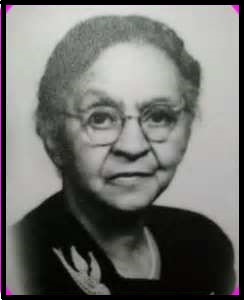 Sarah Jane Early Woodson was the first African-American woman to become a college professor. She was hired by Wilberforce University in Ohio as an English and Latin professor.
Woodson was born on November 15, 1825, in Chillicothe, Ohio. She was the fifth daughter and the youngest child of eleven to Jemima and Thomas Woodson.
Around 1821, her parents moved to the free state of Ohio from Virginia. Her father believed that he was the oldest son of Sally Hemings and President Thomas Jefferson, and this tradition became part of the family's oral history. It was not supported by known historical evidence. In 1998, DNA testing of descendants of the Jefferson, Hemings and Woodson male lines showed conclusively that there was no match between the Jefferson and Woodson lines; however, the Woodson male line did show western European paternal ancestry.
Woodson attended Oberlin College and graduated in 1856. She was among the first African-American women college graduates. After graduating college, she taught in black community schools in Ohio for many years.
When Woodson was hired in 1858 at Wilberforce University, she became the first African-American woman university instructor. She was also the first black person to teach at an Historically Black College or University (HBCU) and the only black instructor to teach at an HBCU before the Civil War. Her brother, Rev. Lewis Woodson, was a trustee and founder of the college. Wilberforce closed for two years during the Civil War because of finances.
After the Civil War, Woodson began teaching in a new school for black girls established by the Freedmen's Bureau in Hillsboro, North Carolina, in 1868. Woodson stayed active in the women's temperance movement, one of numerous reform activities of the nineteenth century. In 1888, she was elected for a four-year term as national superintendent of the Colored Division of the Women's Christian Temperance Union.
In 1893, Woodson was one of five African American women who were invited to speak at the World's Congress of Representative Women in Chicago. Her speech was entitled "The Organized Efforts of the Colored Women of the South to Improve Their Condition." Sarah Jane Early Woodson died in 1907.
sources:
http://docsouth.unc.edu/neh/early/early.html
http://aaregistry.org/historic_events/view/sarah-jane-early-fought-education-black-women