On April 25th, 1944 the world renowned United Negro College Fund was founded. It was founded by a black man named Frederick Douglass Patterson. Frederick Patterson was the president of Tuskegee University at the time. Patterson was also aided by Mary McLeod Bethune in the founding of the United Negro College Fund. The United Negro College Fund was designed to help provide a continuous stream of financial support to struggling black colleges and universities in the South.  It was also designed to help poor black students have access to quality higher education.
The UNCF gained some of its early financial support from very noteworthy philanthropists including John F. Kennedy, Franklin D. Roosevelt, and John D. Rockefeller.  Most of the financial support and control of the UNCF was via white supporters in its early days. It was not until the 70s in which blacks gained full control of the UNCF. This was due to the election of a man by the name of Vernon Jordan to sit on the board. In 1980 entertainer Lou Rawls was called upon to do annual telethon fundraisers for the UNCF.  The annual telethons that were done until 2006 were said to bring in over two hundred million dollars in funding.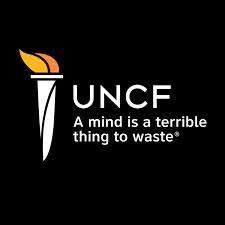 In 1972, the UNCF began to use the famous slogan: "a mind is a terrible thing to waste", which become one of the most recognized slogans to date.  The UNCF, in recent times has grown to accommodate not only black scholars, but Native American, Asian and Hispanic/Latino scholars as well.  This is one of the reasons that the United Negro College Fund rebranded itself as UNCF. The UNCF currently has over thirty nine members.  The UNCF still exists today and has provided financial support in excess of one hundred million dollars annually. These funds have reached over 65,000 scholars.
Source: http://www.blackpast.org/aah/united-negro-college-fund-1944