Twelve young African-American students walked into history in Clinton, Tennessee, in 1956. They were the first students to desegregate a state-supported high school in the south. Every school day morning, the "Clinton 12" met at Green McAdoo school and walked together down Broad Street from Foley Hill to Clinton High School.
The Clinton 12 included Maurice Soles, Anna T. Caswell, Alfred Williams, Regina Turner Smith, William R. Latham, Gail Ann Epps Upton, Ronald Gordon "Poochie" Hayden, JoAnn Crozier, Allen Boyce, Robert Thacker, Bobby Cain, Minnie Ann Dickey Jones, and Alvah McSwain.
The school also holds the honor of having the first African-American person to graduate from a public high school in the South, Bobby Cain. After graduating from Clinton High School, Bobby L. Cain went on to earn a B.A. in sociology from Tennessee State University. In 2002, he retired after more than 30 years as a supervisor with the State of Tennessee Department of Human Services' Family Assistance Program.
Gail Ann Epps Upton graduated as a member of the 1958 class of Clinton High School, despite the fact that the school had been destroyed earlier that year and students had to attend classes elsewhere. She went on to attend Tennessee State University and spent some time working as a substitute teacher.
The students' courage has been commemorated in a life-size statue on the grounds of the museum at the Green McAdoo Cultural Center, which opened on August 26, 2006, the 50th anniversary of their first walk to Clinton High School.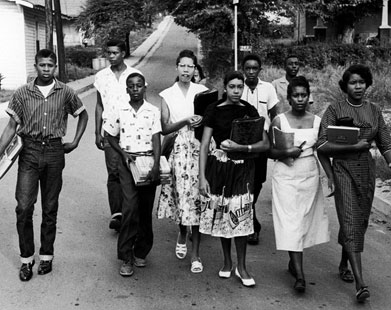 :
http://www.scholastic.com/browse/article.jsp?id=3746347