Luther Holbert and his wife, both African-Americans, were burned at the stake by a mob of more than 1,000 people for killing James Eastland, a prominent white planter, and John Carr, another black man on the Eastland plantation, two miles from Doddsville, Mississippi. The lynching of Holbert and his wife resulted in eight people losing their lives and over 200 men and two packs of bloodhounds chasing across four counties to find the accused.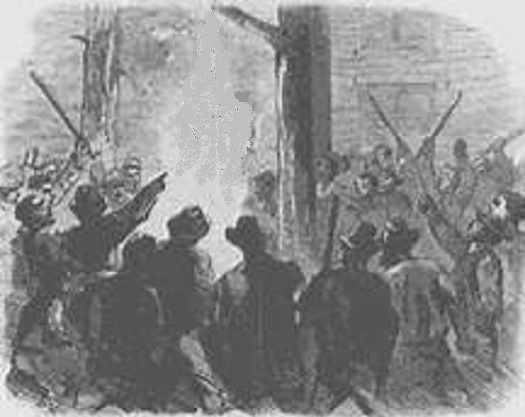 The killing of Eastland, Carr, and Winters occurred on a Wednesday at the  Eastland's plantation. Holbert and Winters were in Carr's cabin when Eastland entered and ordered Holbert to leave the plantation. It was alleged that during this time, Holbert opened fire on Eastland, fatally wounding him and killing Carr. Eastland returned the fire and killed Winters.  News of what had taken place traveled fast. A Doddsville posse was immediately formed and headed straight toward Eastland's plantation.
The posse arrived in town shooting at every negro insight,  an unknown negro was killed. But by the time the posse had arrived Holbert and his wife had fled. Other posses were formed at Greenville, Ittaben, Cleveland and other points and the pursuit of Holbert and his wife started with horses and bloodhounds. The chase, which started on Wednesday morning, was continued until late into the night, when Holbert and his wife, were worn out from traveling over 100 miles on foot through canebrakes and swamps, they were found asleep in a heavy belt of timber three miles east of Sheppardstown and captured. The two were taken back to Doddsville and burned at the stake by a large mob in the shadow of a black church. There was never an indication that Holbert's wife had any part of the crime.
The newspapers read:
"When the two Negroes were captured, they were tied to trees and while the funeral pyres were being prepared, they were forced to hold out their hands while one finger at a time was chopped off. The fingers were distributed as souvenirs. The ears of the murderers were cut off. Holbert was beaten severely, his skull was fractured and one of his eyes, knocked out with a stick, hung by a shred from the socket. "Some of the mob used a large corkscrew to bore into the flesh of the man and woman. It was applied to their arms, legs and body, then pulled out, the spirals tearing out big pieces of raw, quivering flesh every time it was withdrawn." 
original articles found at:
http://www.gateschili.org/webpages/cwhite/resources.cfm?subpage=13969
http://www.jewishworldreview.com/jeff/jacoby051501.asp