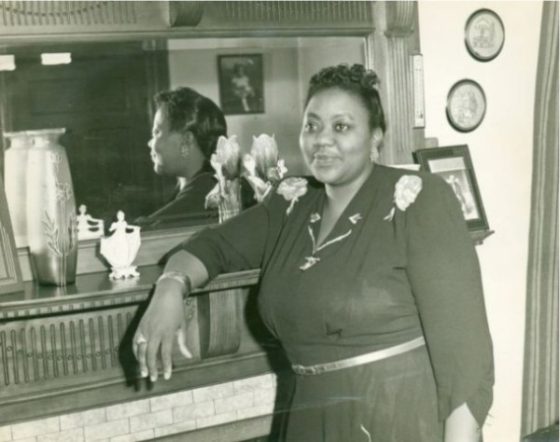 Marietta Canty received critical acclaim for her performances in theater, radio, motion pictures, and television as well as for her political and social activities. Often her roles were limited to portraying domestic servant, but by performing them with dignity, Canty, like other black actors and actresses of her day, maintained a presence for minority performers in the entertainment industry.
Canty was born September 30, 1905, one of five children of Henry and Mary Canty. Excelling in singing and speech at Northeast Elementary School and Hartford Public High School, Canty was pushed into acting at 18 for the Gilpen Players in Hartford, a group of African Americans interested in theater. Later, she found herself on Broadway, while attending the Lincoln Hospital School of Nursing in New York City. From there, she managed to make her first screen appearance: a walk-on role in the 1933 film version of the Emperor Jones. Her later theater roles included Correspondent Unknown (1936), The Night of January 16th (1940), and No Time for Comedy (1941). Canty appeared in more than 40 films, including The Lady is Willing, The Spoilers, The Bad and the Beautiful, and Lady in the Dark.
Ending her acting career at 51, Canty took a job with Terry Steam Turbine Corporation in Hartford as a nurse, a position that she held until her retirement in 1971. From 1966 to 1973 she served as a justice of the peace. During her post-acting years, Canty participated in numerous organizations, served on various boards, and received many awards.
In 1961 and 1963, Canty ran for office on the Hartford City Council as a Republican. Her platform included more efficient daycare centers, more street lights on North Main Street in the predominately minority neighborhood, and new bus routes. She was unsuccessful in both campaigns. Marietta Canty died in her Wahl Avenue home on July 9, 1986, at the age of 80.
source:
https://www.nps.gov/nr/feature/wom/2002/canty.htm