A fiercely independent thinker and writer, Martin R. Delany, was a man of many different roles. He was an abolitionist, editor, writer, doctor, and politician, he has also been noted as being the first field officer in the United States Army, serving as a major during and after the American Civil War. He was also among the first black nationalists.
Delany was born in Charlestown, Virginia, to Pati and Samuel Delany. His father was enslaved, but his mother was a free woman, and Martin took her status under the Virginia slave law. His parents both were of Mandinka ethnicity.
Growing up, Delany learned to read and write using The New York Primer and Spelling Book, which was given to his family by a peddler. It was against the law for slaves to learn to read, and when the book was discovered, his mother took him and his siblings out of Virginia to Chambersburg in the free state of Pennsylvania for safety.
In 1831, at the age of 19, Delany moved west to the growing city of Pittsburgh, where he became a barber and laborer. Having heard stories about his parents' ancestors, he wanted to visit Africa. Delaney and three other young black men were later accepted into Harvard Medical School. However, at the time, blacks were not allowed into the school after numerous white students petitioned to keep blacks out. He later attended Jefferson College, where he was taught Latin and Greek.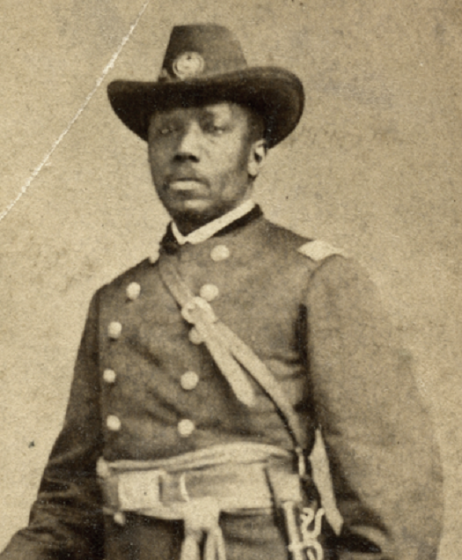 During the widespread of the cholera epidemic in 1832, Delany became apprenticed to Dr. Andrew N. McDowell. He focused on learning the contemporary techniques of fire cupping and leeching, then considered the primary techniques to treat disease. He continued to study medicine under the mentorship of Dr. McDowell and other abolitionist doctors, such as Dr. F. Julius LeMoyne and Dr. Joseph P. Gazzam of Pittsburgh.
During the 1830s, Delany became involved in political matters and attended the first National Negro Convention in 1831. In the 1840s, Delany began publishing The Mystery, which was a black-controlled newspaper. His articles were usually reprinted in other venues. He later worked with Frederick Douglass and William Lloyd Garrison to publish The North Star.
He later served in the Civil War and was the only black officer to receive the rank of major during the war. After the war, he remained with the Army and served under General Rufus Saxton in the 52nd U.S. Colored Troops. He was later transferred to the Freedmen's Bureau, serving on Hilton Head. Delany died in 1885 at the age of 72.
source:
http://www.britannica.com/biography/Martin-R-Delany