Civil rights activist and leader Patricia Gloria Stephens was born in December 1939 in Quincy, Florida, to Lottie Mae Powell Stephens and Horace Walter Stephens. She was the second of three children.
Throughout her entire life, she always believed in fighting for what was right. Even as a young child, Stephens showed great courage. She along with her sister took on the Jim Crow laws when they tried to purchase ice cream at a "Whites Only" window at their local Dairy Queen, instead of using the "Coloreds Only" window. During her high school years, she started a petition to have the school's principal removed.
She later attended Florida A & M University, following in her big sister's footsteps. During his time at the university, she formed a local chapter of the Congress of Racial Equality (CORE). She went on to work in political campaigns and constantly advocated for human rights. In 1960, Stephens and her sister decided it was time to make a stronger statement. The two got together with nine other Florida A&M students and staged a sit-in at the local Woolworths. The sit-in occurred only weeks after the infamous sit-in in Greensboro, North Carolina.
On March 12, 1960, several FAMU and Florida State University students, who had participated in sit-ins at McCrory's and Woolworths, were arrested. A thousand students began marching from the FAMU campus toward downtown Tallahassee, but were met with police officers who attacked them with tear gas. Young Stephens, who was at the front of the line, was gassed in the eyes and suffered permanent vision loss. She wore dark glasses for the rest of her life after the event.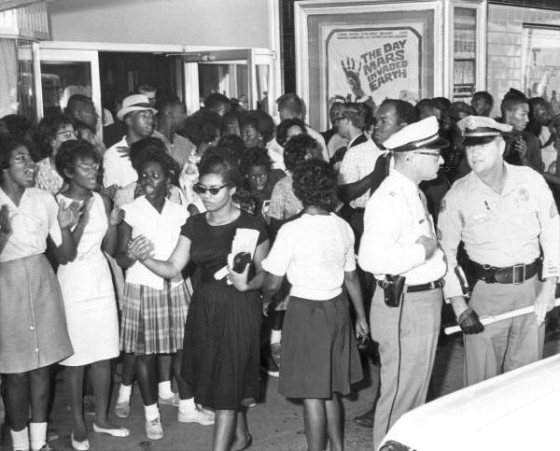 The group was fined at trial, but refused to pay the money, which led to a 49-day jail sentence. After her release from jail, she went on a national fundraising tour, and the "jail-in" became a standard protest in the Civil Rights movement.
Stephens later married a law student at FAMU, John D. Due, Jr. The two worked to establish The John Due and Patricia Stephens Due Freedom Endowed Scholarship, which provides $1000 annually to a student who attends FAMU and plans to use the legacy of the civil rights movement to do his or her part to make a difference. Patricia Stephens Due died in 2012.
sources:
http://www.thehistorymakers.com/biography/patricia-stephens-due-41
https://www.bostonglobe.com/metro/obituaries/2012/02/13/patricia-stephens-due-advocate-for-civil-rights/tB6nShmYTiiYKTv5pnjhKN/story.html