On this day in Black history, NFL Hall of Famer Gale Sayers was born in Wichita, Kansas in 1943. A supernova in the 1960s NFL, he was known as a gifted player with incredible speed and agility. He was also known for his short NFL career, spending most of it with the Chicago Bears.
Sayers came from a family of athletes with his older brother Roger being a collegiate star in track and field and his younger brother Ron having played for the San Diego Chargers in 1969. He pursued track and football in high school and was viewed as a top prospect in the region.
While he had his choice of schools, he would attend and play for the University of Kansas where he was a collegiate standout. By the end of his collegiate football career, he was a two-time All-American and three-time All-Big Eight player.
PROFESSIONAL CAREER
Gale Sayers would be a hot pick in 1965 in both the NFL and AFL drafts as a first round pick for the Chicago Bears and Kansas City Chiefs respectively. He would end up with the Bears and kick off his career with an explosive rookie season in the form of 22 touchdowns and 2,272 all-purpose. All said, 1965 was when he set several NFL records as a rookie. He would receive Rookie of the Year honors.
His following season was similar to the first with a strong performance, another Pro Bowl appearance, and All-Pro honors.He'd suffer his first major career setback in late 1968 against the San Francisco 49ers when he tore his right knee. He would again get All-Pro honors for his performance in most of the season while rehabbing his knee.
Sayers would return in 1969 with his speed taking a hit. He still managed a strong performance in rushing although the Chicago Bears did poorly that season. He would be awarded Comeback Player of the Year.
END OF CAREER
In the 1970 preseason, Sayers injured his left knee. Attempts to play through proved fruitless and he sat out to pursue surgery and recover. In that time, he pursued training in finance and worked as a stockbroker. When he returned for 1971-1972 and showed little return to form. He sat out for several games and would suffer an ankle injury against the 49ers.
Sayers sat out the season and attempted a return for the following season, but a poor performance saw him retire from the sport as a player. He would work as athletic director for the Southern Illinois University Carbondale for a period before opening his own computer supply business in 1984. The company would eventually become a technology consulting firm. Sayers also started programs for youth.
With both his collegiate and professional #40 jerseys retired, Gale Sayers was inducted into the Pro Football Hall of Fame in 1977, the youngest inductee ever. He was also inducted into the College Football Hall of Fame that same year.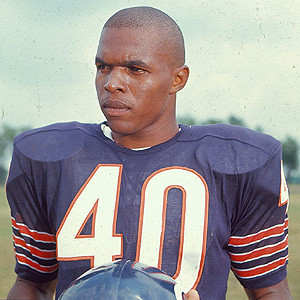 SOURCE
http://www.profootballhof.com/hof/member.aspx?PlayerId=188
http://www.footballfoundation.org/Programs/CollegeFootballHallofFame/SearchDetail.aspx?id=60043