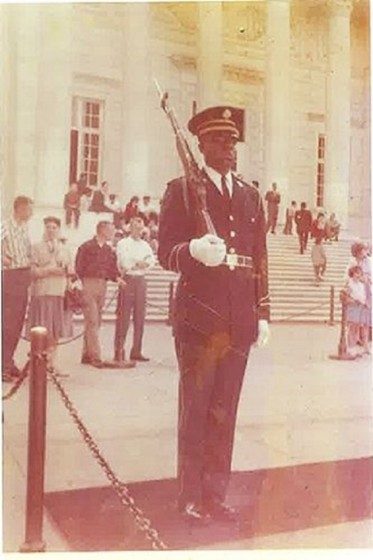 Specialist 4th Class Fred Moore was the first African-American posted to the Tomb Guard. Moore was drafted Aug. 13, 1959, and like many black men during that time, he was displeased with being selected. Most of his training days were spent thinking about how he could get back home. He had been happy with his life before, working a good job and spending his free time how he wanted.
"When I got my letter from the government telling me that I had been selected, I was upset because I was working, and a lot of the guys, the friends that I knew they weren't working," Moore said. "And I had a job, and then when I went into the service, they were still doing what they were doing, and it just kind of rubbed me the wrong way."
Moore soon accepted reality and decided to make the best of his new way of life. He straightens up and decided and focused on working hard in the military. He was put on a series of tests before given an assignment. Moore was later called into an officer's office and asked if he'd like to be in the Honor Guard Company. After the officer explained the specifics of the Honor Guard Company, Moore agreed to the assignment. Again, Moore was a bit disappointed after learning his fellow soldiers were headed to exciting places such as Germany and Korea, he was staying in Fort Myer, Virginia.
Honor Guard Company is the nickname for The Old Guard's Company E, 4th Battalion. The company also comprises an escort platoon, a casket platoon, a firing party and a continental color guard. When Moore arrived in late 1960, he was assigned to the military firing party. The company fired rifles during military funerals in Arlington National Cemetery. They would have burials every half-hour on the hour. The company also participated in parades and ceremonies, also performing as the ceremonial guard for visiting dignitaries.
In January of 1961, President Kennedy brought the president of Ghana, Kwame Nkrumah, to the Tomb for a wreath-laying ceremony. Nkrumah asked Kennedy why he didn't see any people of color on the Tomb Guard, Moore explained. Nkrumah's concern became Kennedy's, and orders traveled down the chain of command in The Old Guard. Moore, already in line for Tomb duty, was moved quickly into a sentinel position.
Moore was not aware he was the first black soldier on a Tomb Guard relief until an article came out in Ebony magazine in September 1961. Moore was drafted into the Army during a tumultuous period for civil rights when racial discrimination was rampant. However, he said he didn't experience that in the Army, and he got along well with his fellow soldiers.
After serving in the military,  Moore went on to the Noncommissioned Officers Academy and graduated with honors. He went home to Cleveland after his two-year service requirement ended.
Sources:
First African-American Guard For Tomb Of The Unknown Soldier Reflects
https://www.army.mil/article/74448/First_African_American_Tomb_Guard_recalls_journey/