The Memphis riots of 1866 were violent attacks that occurred from May 1 thru May 3. The riots were ignited by social, political and racial tensions following the American Civil War in the early stages of the Reconstruction era.
Social tensions in Memphis increased when the U.S. Army used black Union Army soldiers to patrol Memphis. There was competition between the military and local government as to who was in charge; after the war, the developing role of the Freedmen's Bureau added to the ambiguity.
Through early 1866, there were numerous instances of threats and fighting between black soldiers and white Memphis policemen, who were 90 percent Irish immigrants. Several witnesses testified to the tensions between the ethnic groups throughout the city. Officials of the Freedmen's Bureau reported that police arrested black soldiers for minor offenses and usually treated them brutally, in contrast to their treatment of white suspects.
The night before the riots occurred, there was a street fight between a group of three soldiers and four policemen. After taunting on both sides and a physical collision, a police officer hit a soldier in the head with a firearm, hard enough to break it. Some fighting ensued and then the two groups went their separate ways. News of the incident spread across town quickly.
The following day, a group of black soldiers had gathered on the street while drinking whiskey, having a good time. At about 4:00, City Recorder John Creighton ordered four police officers to break up the party.
A shootout occurred between white police officers and black soldiers, sending mobs of white civilians and policemen rampaging through black neighborhoods and the houses of freedmen. The mobs attacked and killed black men, women, and their children.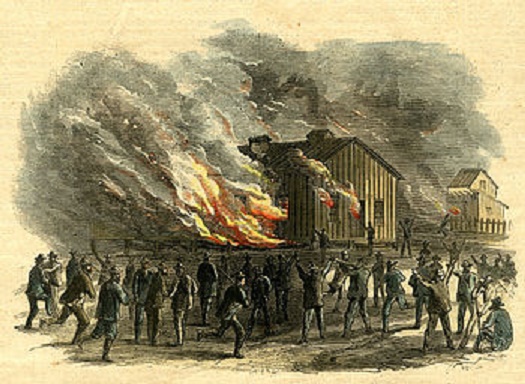 Federal troops were called in, but by the third and last day of the riots, 45 blacks and two whites had died. Furthermore, 75 blacks had been injured, five black women had become victims of rape, hundreds of black residents had been robbed, and numerous churches and black schools had been burned to the ground. After the incident, many black people fled the city; it was estimated that more than $100,000 of damage was done in the black community.
After investigating the riots, it was determined that specific causes were related to competition for housing, work, and social space between Irish immigrants and their descendants, and the freedmen. The white gentry also sought to drive freed people out of Memphis and back onto plantations, where their labor could be exploited.
No criminal proceedings or charges were brought against the instigators or perpetrators who committed crimes during the Memphis riots of 1866. The United States Attorney General, James Speed, ruled that judicial actions associated with the riots fell under state jurisdiction. However, state and local officials refused to take action, and no grand jury was ever invoked.
sources:
http://www.blackpast.org/aah/memphis-riot-1866
http://blogs.memphis.edu/memphismassacre1866/