On August 5, 1965, the first black woman prosecutor of Louisville, Alberta Jones, was murdered. Her body was tossed off Louisville's Sherman Minton Bridge into the waters of the Ohio River. At the time, the police attributed her death to drowning, but later, an autopsy showed the Jones had received several blows to the head before being tossed in the water.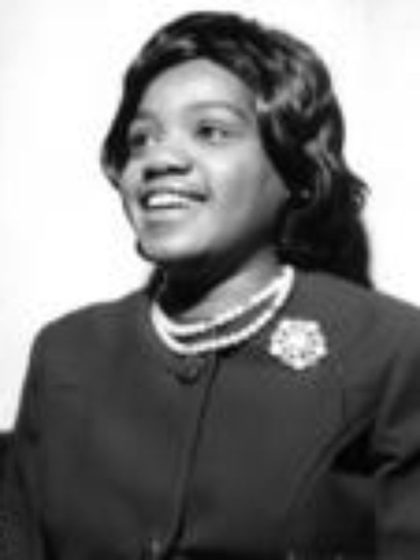 After her car was found several blocks from the bridge with traces of blood in it, the Louisville police began a murder investigation. Jones was a highly-respected attorney and prosecutor, yet, her murder was never solved.
Alberta Odell Jones was one of the first African American women to pass the Kentucky bar (Sally J. Seals White was the first African American woman admitted to the Kentucky Bar), and was the first female city attorney in Jefferson County. She was appointed in February 1965 to be a prosecutor in the Louisville Domestic Relations Court, and was murdered in August of that year.
Jones was a graduate of Louisville Central High School and attended the Louisville Municipal College for Negroes. When the college was merged with the University of Louisville during desegregation, Jones continued her education at University of Louisville and graduated third in her class. She was accepted into the University of Louisville Law School, but transferred after the first year to Howard University School of Law, where she graduated fourth in her class.
Jones started her own law office after completing law school. At one point, she represented Muhammad Ali. She was also very active in the civil rights movement in Louisville. After participating in the March on Washington and the marches in Louisville, she rented voting machines and held classes to teach black residents how to vote for the candidate of their choice. She established the Independent Voters Association and was an active member of the Louisville Urban League and the NAACP.
Jones also established the James "Bulky" Welch Fund and held a fundraiser. The organization raffled off a car to pay Welch's medical bills and purchase the prosthetic arms to replace the ones young Welch had lost trying to retrieve his dog from under a train.
In 2008, the FBI reportedly matched a fingerprint found in Jones' car to a man who was just 17 years old at the time of the murder. According to the Commonwealth's Attorney, the case was reviewed at the time, but there was not enough "sufficient evidence" to reopen it.
sources:
http://www.wdrb.com/story/32681253/professor-asks-for-another-look-into-murder-of-kentuckys-first-female-prosecutor
https://www.louisville.com/content/portrait-honoring-murdered-prosecutor-alberta-jones-unveiled-arena