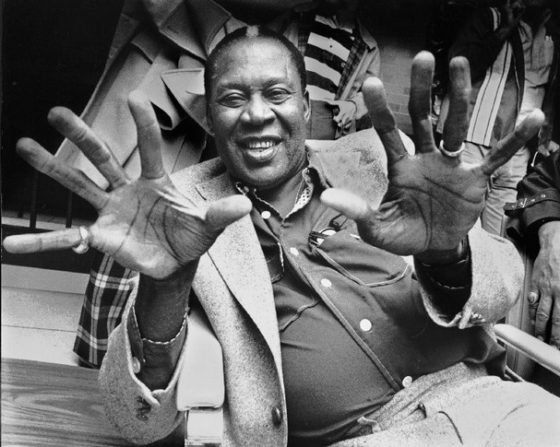 Memphis Slim was one of the greatest blues pianist, singers, and composers of all time. Slim made over 500 recordings and his first recording in 1947, "Every Day I Have the Blue" became a blues standard.
John Len Chatman (Memphis Slim),  was born in Memphis, Tennessee on September 3, 1915. For his first recordings, for Okeh Records in 1940, he used the name of his father, Peter Chatman in honor of his father (who was also a musician). He began performing under the name Memphis Slim but continued to publish songs under the name Peter Chatman.
Slim moved to Chicago around 1939 and began teaming with the guitarist and singer, Big Bill Broonzy in clubs. In 1940 and 1941, he recorded two songs for Bluebird Records that became part of his repertoire for decades, "Beer Drinking Woman" and "Grinder Man Blues." In late 1945, he also recorded with trios for the small Chicago-based Hy-Tone Records.
After 1954, Slim did not have a steady relationship with a record company until 1958, when he signed with Vee-Jay Records.  Slim first appeared outside the United States in 1960, touring with Willie Dixon, with whom he returned to Europe in 1962 as a featured artist in the first of the series of American Folk Festival concerts organized by Dixon. Slim, moved to Paris in 1962, where he continued his musical career. He also appeared on television in several films throughout Europe.
In the last years of his life, he teamed up with the respected jazz drummer George Collier. The two toured Europe together and became friends. After Collier died in August 1987, Slim rarely appeared in public, although he reunited with Matt "Guitar" Murphy for a gig at Antone's in Austin in 1987. Memphis Slim died on February 24, 1988, of renal failure in Paris, France, at the age of 72. Posthumously inducted into the Blues Hall of Fame, he also was inducted into the Memphis Music Hall of Fame in 2015.
Sources:
http://www.allmusic.com/artist/memphis-slim-mn0000421122
https://www.youtube.com/watch?v=24isoA6xdL0