When it came to being original, Ted Joans was just that to bringing jazz and "spoken word" together on stage. His topics ranged from love, poverty, and Africa to the blues. He was the best at his craft during his time. He is also known for his motto: "Jazz is my religion, and Surrealism is my point of view."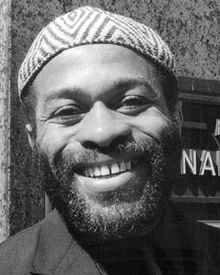 Joans was born in Cairo, Illinois, as Theodore Jones. His parents worked on the riverboats that plied the Ohio and Mississippi rivers. He played the trumpet and was an avid jazz aficionado, following Bop as it developed, and continued to espouse jazz of all styles and eras throughout his life.  He earned a B.A degree in Fine Arts from Indiana University before moving to Greenwich Village in New York City in 1951. He was one of the first Beat poets, authored over 30 books of poetry, prose, and collage, including Black Pow-Wow, Jazz poems, and Afrodisia.
When his former roommate, Charlie Parker, died in 1955, it was Joans who began scrawling "Bird Lives!" all over Lower Manhattan. Joans invented the technique of outagraphy, in which the subject of a photograph is cut out of the image. His visual art work spans collages, assemblage objects, paintings and drawings including many resulting from the collaborative surrealist game Cadavre Exquis. A well-known Black expatriate, Joans went straight to the Motherland in the early 1960s. Timbuktu became his home base, but he traveled around much of the world, doing poetry readings and writing jazz criticism.
In 1968, Joans brought out his "Black Flower" statement, a surrealist manifesto that envisioned a movement of Black people in the U.S. bringing down American imperialism from within with the weapon of poetic imagery, "black flowers" sprouting all over the land.
In 2000, he and his partner Laura had moved to Canada after the acquittal of the officers who fatally shot Amadou Diallo; he vowed then not to reside in these United States ever again. Ted Joans had 10 children, he died in his apartment in Vancouver, Canada on May 7, 2003.
sources:
https://en.wikipedia.org/wiki/Ted_Joans
http://aaregistry.org/historic_events/view/spoken-word-original-ted-joans