Henry Thacker "Harry" Burleigh, was an African-American classical composer, arranger, and professional singer known for his baritone voice. He was the first black composer to be instrumental in the development of a characteristically American music. Burleigh is recognized as having helped to make black music available to classically trained artists both by introducing them to the music and by arranging the music in a classical form.
Burleigh was born in Erie, Pennsylvania, in 1866 to Henry Thacker and Elizabeth Burleigh. His grandfather, Hamilton Waters, was granted manumission from slavery in Somerset County, Maryland.
Burleigh singing career began as a baritone in his family's quartet. By the time he left Erie in January 1892, Burleigh was singing with the city's best vocalists at civic events and church gatherings. At the end of the summer of 1892, he gave a performance in the Adirondacks, at North Hudson, New York, as the featured soloist in "the summer school for Christian workers."
He was later accepted, with a scholarship, to the prestigious National Conservatory of Music in New York at the age of 26.  He went on to play double bass in the Conservatory's orchestra. Although at first the Conservatory denied Burleigh entrance, citing low grades, Mrs. MacDowell (the registrar) insisted that he try his entrance exam again. Days later, he received a scholarship. Burleigh worked for Mrs. MacDowell as a handyman, cleaning and working on anything she needed to help support himself while at the Conservatory.
In 1894, he became a soloist for St. George's Episcopal church in New York City. At first there was some opposition to hiring Burleigh at the all-white church from some parishioners, because of his race, at a time when other white New York Episcopal churches were forbidding black people to worship. However, J. P. Morgan, a member of St. George's at that time, cast the deciding vote to hire Burleigh.
Estimates of Burleigh's original musical output range from 200 to 300 songs. In 1914, he was a founding member of the American Society of Composers, Authors and Publishers (ASCAP), and received a seat on its board of directors in 1941. Burleigh retired in 1946 because of ill health and died in 1949 at the age of 82.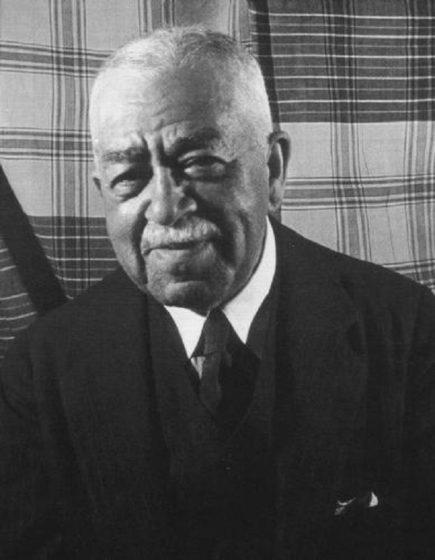 sources:
http://chevalierdesaintgeorges.homestead.com/Burleigh.html