Ed Bullins is an award-winning African-American playwright. He was also the Minister of Culture for the Black Panthers, and one of the best-known playwrights of the Black Arts Movement.
Bullins was born in 1935 in Philadelphia to Bertha Marie Queen and Edward Bullins. He was raised by his mother and attended predominantly white schools. Bullins became involved in gangs and while attending Franklin High School, he was stabbed in a gang-related incident. Shortly after the incident, he joined the United States Navy. After the Navy, he returned to Philadelphia and enrolled in night school.
He later moved to Los Angeles. After receiving his G.E.D, he enrolled at Los Angeles City College. he began writing short stories for the Citadel, a magazine he created.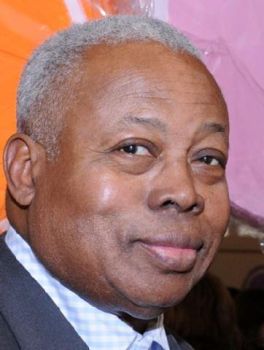 In 1964, he went to San Francisco and joined the creative writing program at San Francisco State College and started writing plays. His first play was How do You Do, immediately followed by Clara's Ole Man and Dialect Determinism. In addition to Bullins' many plays, he also tried his hand at short stories and novels, including The Hungered One and The Reluctant Rapist. There were many people who favored Bullins work, but there were those who thought his plays were too violent and depicted Blacks in a negative way.
Throughout Bullins career, he has written over fifty plays dealing with the intricacies of the Black experience in America. His most anthologized play, Goin' a Buffalo (1968), details the hard, violent life of several characters in Los Angeles.
Bullins has received several awards, including an Obie Award for distinguished playwriting for the Taking of Miss Janie, Guggenheim Fellowship, the Drama Desk-Vernon Rice Award, and numerous others.
source:
http://www.britannica.com/biography/Ed-Bullins
http://www.blackpast.org/aah/bullins-ed-1935