As a young child, Morris "Morrie" Turner had dreams of seeing his drawings in books and magazines. He wanted nothing more than to be a cartoonist. However, Turner knew the odds were against him. He was growing up during a time that white men dominated the cartoonist profession. However, that didn't stop Turner from pursuing his dreams. Ultimately, he came to be known as the as the creator of the first syndicated strip with an ethnically diverse cast of characters, and as the first Black comic artist whose work was syndicated in major news publications.
Morris Turner grew up in Oakland, California, and was the youngest of four children. As the youngest family member of the "Fighting Turner Brothers," he entered school at a distinct disadvantage. Fortunately, not everyone was against Turner, and his dreams to make something of his life. One teacher and principal saw the talent in Turner's drawings and encouraged him to further pursue the field.
Upon graduating from high school, Turner was drafted into the army and experienced much racial discrimination. He trained in the military to be a mechanic with the 477th Bomber Squad that worked with the Tuskegee Airmen. In the evenings, Turner drew and began submitting cartoons to the military newspaper, "Stars and Stripes." He became well-liked by the staff for his work. Turner developed a strip called "Rail Head," which nearly all the soldiers enjoyed because they could identify with the guy who always got everything wrong, yet came up with a way to fix it.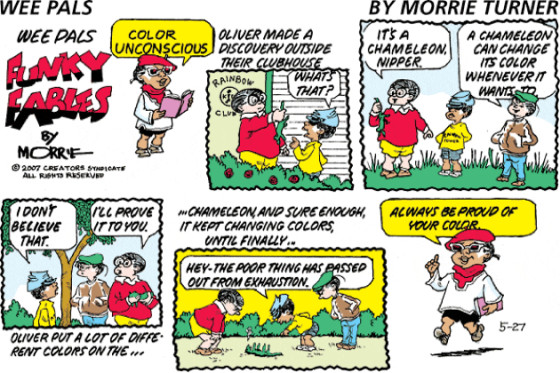 After the military, Turner got married and worked as a clerk with the Berkeley police department. He continued to draw and made his first sale of his comic work to a publication call Baker's Help. He earned five dollars and later rose to 75 dollars when he got a big break from Better Homes & Gardens. As he had no formal art training, he turned to various professional cartoonists, including the creator of Peanuts, Charles Schultz. After inquiring about the lack of an ethnically and racially diverse comic strip, Schultz advised Turner to create his own, and thus, Dinky Fellas, which evolved into Wee Pals, was born. The series became the first ethnically diverse cartoon syndicated in the United States.
Turner has also written various children's books, such as The Illustrated Biography of Martin Luther King, Jr. In 2000, Turner was honored by the Cartoonist Society in 2000 with their Sparky Award. He was recognized by Children's Fairyland in Oakland and has been inducted into the California Public Education Hall of Fame.
source:
http://www.thehistorymakers.com/biography/morrie-turner-38
Cartoonist Morris 'Morrie' Turner, Creator Of 'Wee Pals', Dies At Age 90