Nellie Lutcher gained prominence during the 1940s for her R&B and jazz singing. She was also a phenomenal pianist. Best known for her diction and exaggerated pronunciation, she was credited as an influence by Nina Simone, among others.
Lutcher was born in Lake Charles, Louisiana, on October 15, 1912. She was the oldest daughter of 15 children to Isaac and Suzie Lutcher. Her parents were both musicians, as her father was a bass player, and her mother was a church organist.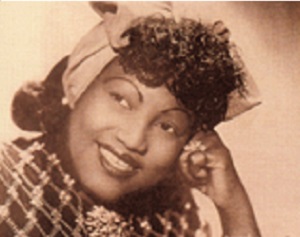 As a young girl, Lutcher received piano lessons. Her father formed a family band, and she contributed as the primary piano player.
At age 12, she played with Ma Rainey; Rainey's regular pianist fell ill and had to be left behind in the previous town. Searching for a temporary replacement in Lake Charles, one of the neighbors told her there was a little girl who played in church.
In 1933, she joined the Southern Rhythm Boys, writing their arrangements and touring on the road with them. In 1935, she moved to Los Angeles, where she married Leonel Lewis. She began to both sing and play swing piano in small combos throughout the area. During this time, she started to develop her signature style.
Despite her immense talent, she was not widely known until 1947, when she decided to perform in the March of Dimes talent show at Hollywood High School. The show was broadcast on the radio, and her performance caught the ear of Dave Dexter, a scout for Capitol Records.
She made several records with Capitol records. Her first hit single, "Hurry On Down," was number two on the R&B charts. Her next hit, "He's A Real Gone Guy," went to number two on the R&B charts and number 15 on the pop charts.
The following year, she had a string of R&B hits, including "Fine Brown Frame." She wrote most of her songs and was able to retain publishing rights for her work, which was uncommon for African American artists at the time.
Over time, Lutcher started to lose her appeal with the record-buying public, which led Capitol to drop her in 1952. By 1957, she had joined the board of the Los Angeles Musicians Union and continued to perform from time to time until the 1990s, under the management of Alan Eichler She also starred in her own TV special on PBS, "Nellie," and recorded a one-hour concert for the NPR series "Piano Jazz."
Nellie Lutcher died in 2007, she was 94.
source:
https://en.wikipedia.org/wiki/Nellie_Lutcher