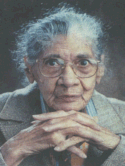 Nellie Stone Johnson was an African American union and civil rights leader whose career spanned the class-conscious politics of the 1930s and the liberal reforms of the Minnesota DFL Party. She was the first African-American elected official in Minneapolis and shaped Minnesota politics for 70 years.
Nellie Saunders Allen was born in 1905 to Dakota County farmers who stressed religious and racial tolerance. Her father was a Nonpartisan League member who rallied Pine County farmers to join cooperatives and elect insurgent candidates to office. She moved to Minneapolis to finish high school, and thereafter was hired as an elevator operator by the Minneapolis Athletic Club in 1924. It was on her job that she experienced racism. Johnson believed the worst discrimination was economic, but trusted that organizing and collective bargaining could improve that belief.
Johnson met communists, radicals, and the itinerant socialist union organizer Swan Assarson in the 1920s while taking classes at the University of Minnesota. A radical himself who believed in a workers' society, Assarson mentored Johnson in organizing hotel workers. Johnson's father also encouraged her activism. Together, they delivered potatoes and rutabagas off his Pine County farm to worker kitchens during the 1934 Teamsters strike.
She was one of the first women to sit on her local's contract-negotiating committee, as well as the first black person elected to citywide office in Minneapolis after her win to the Library Board in 1945.  Johnson also served on the Minnesota State University Board for eight years, and the Minnesota State Colleges and Universities board of Trustees. Nellie Stone Johnson died in Minneapolis in 2002, she was ninety-six.
sources:
http://nsj.mpls.k12.mn.us/who_was_nellie_stone_johnson
http://aaregistry.org/historic_events/view/activist-businesswoman-nellie-stone-johnson