The Ozark achieved fame for its quality entertainment featuring some of the best jazz musicians, black and white, in the western United States. Owned and operated many years by former, African American boxer Leo La Mar.
The Ozark was an immediate success, and by the fall of 1935, the Ozark Club moved to 116-118 Third Street South on the upper floor of a large wood-framed building. Downstairs was the popular Alabama Chicken Shack Restaurant.
Along with his second wife Beatrice, the La Mar's achieved notoriety in the community for their involvement in gambling and a house of ill repute. There was never a dull moment in life at the Ozark Club.
From its opening in 1933, the Ozark Club was known for its fun and music. Initially catering to a black population, early in World War II Leo LaMar successfully broadened its base to a multiracial crowd under the theme, "All are welcome." Segregated Great Falls during wartime was a city ready for an interracial nightclub where all were welcome. There never was a dull moment at the Ozark Club.
During the early 1950s, gambling quietly went on in a back room of the club. Leo's wife, Bea, ran her "gravy train" prostitution ring at the nearby LaMar Hotel. Leo LaMar was a power in the Great Falls community.
By 1957 dark clouds began to form. That year newspaper headlines broke revealing sordid details of the LaMar Hotel operations. Leo, Jr.'s spectacular death with four friends in an early morning car-truck crash in June 1961 was a devastating blow to his father. Leo LaMar's heart attack and death one year later in June 1962 marked the end of an era, and the impending demise of the Ozark Club. Three weeks later, a late night fire forced emergency evacuation of about 50 staff and patrons, as the Ozark Club burned to the ground. Rumors swirled that the fire was not accidental.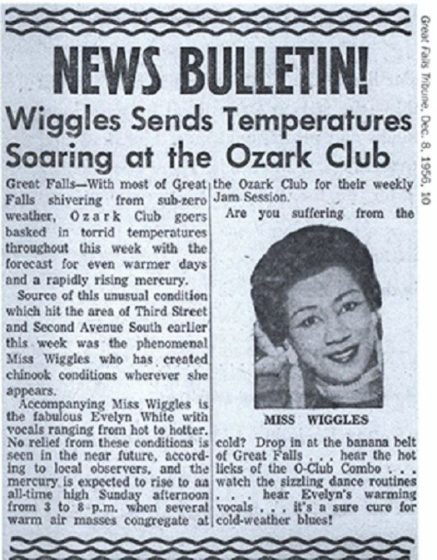 sources:
http://www.distinctlymontana.com/montana-places/09/08/2011/ozark-club