Rafer Johnson was born on August 18, 1935, in Hillsboro, Texas. One of six children, he moved with his family to Kingsburg, in California's San Joaquin Valley, in hopes of a better life. The family lived in a railroad boxcar, which they had modified into a home.
Johnson, a versatile athlete who played on Kingsburg High School's football, baseball, and basketball teams, won a total of thirteen varsity letters. As a halfback, Rafer averaged more than nine yards every time he carried the football and led his team to three league championships. However, before his athletic career began, he suffered a severe injury on his left foot; the foot was severely cut when it got caught in a conveyor belt.
Nevertheless, in 1954, Johnson made his decathlon debut. He won the Pan American Games title at the 1960 Olympic Games. Johnson went on  to become the first African American athlete to carry the U.S. flag in the Olympic procession, and later he captured the decathlon gold medal. He also became the first African American to win the prestigious James E. Sullivan Award, which is given annually to the top amateur athlete in the United States. In 1960, Rafer was voted Track and Field News world athlete of the year. His brother, Jimmy Johnson, played defensive back for the San Francisco 49ers and is a member of the Pro Football Hall of Fame.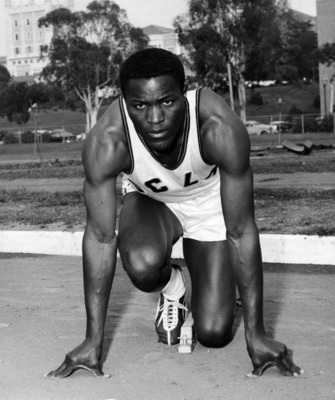 Rafer Johnson retired from organized athletics following the 1960 Olympics. In 1968, he served as an official delegate for the Kennedy presidential ticket, although the honor turned tragic on June 5, 1968, when Robert Kennedy was assassinated following the California presidential primary. Johnson witnessed the murder firsthand, along with Rosey Grier, who assisted in arresting the assassin's flight and retrieved the murder weapon. Johnson was a pallbearer at the funeral and testified at the murder trial.
source:
http://www.encyclopedia.com/topic/Rafer_Johnson.aspx