Reverend Charleszetta "Mother" Campbell Waddles had a vision; she believed that her calling was to feed the hungry and clothe the naked.
Campbell was born in St. Louis, MO, as one of seven children of Henry and Ella Brown Campbell; only three of the children lived to adulthood. Her father died in 1924, and with her mother's failing health a factor, Campbell left school in the eighth grade to work. As a single parent of several children, young Campbell received government assistance while educating herself by reading. She was married several times and later relocated with husband Leroy Wash to Detroit, MI in 1936. After their divorce, she married Payton Waddles, a former worker at the Ford Motor Company.
Charleszetta Waddles became an ordained minister in the First Pentecostal Church, and was later re-ordained in the International Association of Universal Truth. In 1950, her religious teachings gave shape and inspiration to the founding of the Helping Hand Restaurant. In Detroit's skid row, surrounded by flophouses, she offered meals for as little as 35 cents.
With an eighth-grade education in the late 1960s, Reverend Charleszetta Waddles founded a comprehensive social services agency that served the low-income communities of Detroit, the Perpetual Mission. Waddles was 36 years old and the mother of ten children when she began her mission against poverty. She was described by Life magazine as a "one-woman war on poverty," although she had endured difficult times herself.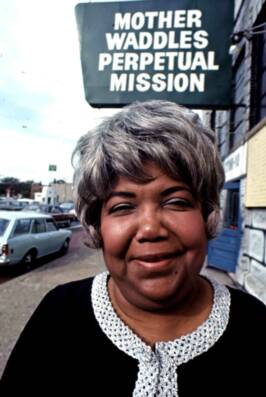 The program was privately funded and staffed by volunteers, who provided services mostly to unwed mothers, prostitutes, abused children, the handicapped, the elderly, and the poor. Emergency aid, job training, a graphic arts program, and a culinary arts school were among the many services that were offered to the community. The volunteer staff ranged from Waddles' own children to a mostly paralyzed woman who made phone calls from her house.
Not only did Waddles provide services to those in need, she also gave speeches and sermons she called "downtrodden tales" that were a mix of optimism and humor. Waddles died in 2001.
sources:
http://elmwoodhistoriccemetery.org/biographies/mother-charleszetta-waddles/
http://aaregistry.org/historic_events/view/giving-community-charlezetta-waddle
http://detroithistorical.org/learn/encyclopedia-of-detroit/waddles-charleszetta-mother