Sepia magazine was one of a cluster of African-American magazines that contained photographs and stories to celebrate the successes of African Americans. The magazine was first published in Forth Worth, Texas.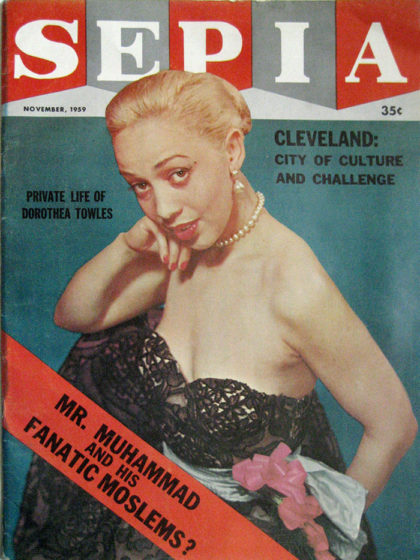 The magazine made its debut under the name Negro Achievements, and often talked about the obstacles facing Black people. Sepia focused on various aspects of African American culture, including churches, civil rights, and education, all from different viewpoints. With the objective of fostering leadership, the magazine also published articles on the development of Black institutions, including colleges and universities.
Within the magazine pages appeared columns by writer John Howard Griffin, a white man who darkened his skin and wrote about his treatment in the segregated South. Jis experience eventually became the best-selling book, "Black Like Me." Sepia remained a vital voice throughout the African-American community for several decades.
Sepia Magazine was originally owned and published by a Jewish-American man named George Levitan, who bought the magazine in 1950. After Levitan's death in the mid-1970s, Sepia was later purchased by Beatrice Pringle and overseen by Ebony Magazine. Pringle eventually shut the publication down in 1983, although it had reached a circulation of approximately 160,000. As the magazine's records and building were mostly destroyed after it closed, scholars have struggled to properly research this influential magazine.
sources:
http://www.aaregistry.org/historic_events/view/sepia-magazine-published-black-life
https://en.wikipedia.org/wiki/Sepia_(magazine)