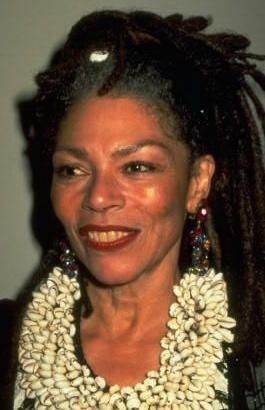 Intelligent and spunky Rosalind Cash was an American singer and actress who often played strong black female roles in Hollywood. Her best known film role is as Charlton Heston's character's love interest Lisa, in the 1971 science fiction film, The Omega Man. To soap opera audiences, she is best remembered as Mary Mae Ward on General Hospital from 1994 to 1995.
Cash was born on December 31, 1938 in Atlantic City, New Jersey. She was the second of four children. She graduated with honors from Atlantic City High School in 1956 and later attended City College of New York.
Cash appeared in the 1962 revival of Fiorello! and was an original member of the Negro Ensemble Company, founded in 1968. In 1973, she played the role of Goneril in King Lear at the New York Shakespeare Festival alongside James Earl Jones's Lear.
She appeared on numerous television sitcoms, including What's Happening!!, Good Times, Barney Miller, Benson, Police Woman. Cash was nominated for an Emmy Award for her work on the PBS production of Go Tell it On the Mountain. In 1996, she was posthumously nominated for an Emmy Award, Outstanding Supporting Actress in a Drama Series, for her role on General Hospital.
Cash also supplied the voices of Sesame Street Muppet Roosevelt Franklin's mother and sister, Mary Frances, on the 1970 record album The Year of Roosevelt Franklin, Gordon's Friend from Sesame Street.  Rosalind Cash died  of cancer on October 31, 1995; she was 56.
sources:
https://www.britannica.com/biography/Rosalind-Cash
http://www.imdb.com/name/nm0143614/bio