Hilda Simms was born "Hilda Moses" to Emile and Lydia Moses in 1918 in Minneapolis, Minnesota; she was one of eleven children. Simms briefly studied teaching at the University of Minnesota before relocating to New York where she met and married William Simms. She soon gained professional acting experience at Harlem's American Negro Theater.
Simms made her debut in the title role of the theatrical play, "Anna Lucasta." When the production moved to Broadway in 1944, it became the first all-Black production to be performed on Broadway without a racial theme. It had a run of over 950 performances.
She became the first leading African-American actress to appear in a Broadway hit production. The play was originally written for an all-white cast. Simms played a middle-class woman struggling to regain respect after working as a prostitute. Her mother refused to attend her debut in the play because she was against the role Simms was portraying, as Simms and her siblings were raised devout Catholics.
Simms film career began in the 1950s, although it was very short lived. She played the heavyweight boxing champion Joe Louis' wife in "The Joe Louis Story." Her last movie was Black Widow (1954), in which she played hatcheck girl.
Simms always believed she was blacklisted in Hollywood because of alleged communist affiliations. Simms reported that the U.S. Defense Department notified her that the Department of Justice denied her passport in 1955, and canceled her scheduled 14-week USO tour of the Armed Forces in Europe.
Unable to further her acting career, Simms began working as an active participant in political movements. She focused on bringing attention to the discrimination against black actors in Hollywood. Simms died in 1994.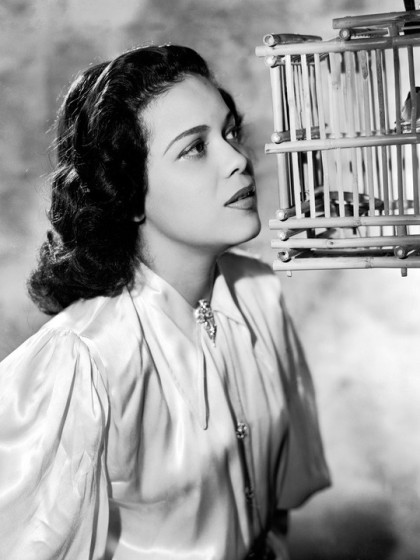 sources:
http://www.aaregistry.org/historic_events/view/hilda-simms-actress-and-black-talent-supporter
http://www.imdb.com/name/nm0799968/bio
http://www.blackpast.org/aah/simms-hilda-1918-1994