Ruby Pearl Elzy was a pioneer American operatic soprano singer from the hills of northeastern Mississippi. She became a big name star vis the radio, Broadway, and movies in the 1930s.
Elzy was born in Pontotoc, Mississippi, on February 20, 1908, and grew up during the Jim Crow era when times were extremely difficult for African Americans. While a young girl, her father abandoned the family, leaving her mother, Emma, to raise four children on the money she made as a school teacher.
Elzy found her love for music early on. At the age of four, she sang in public at church for the first time. When times were hard, she turned to music to lift her spirits and those around her. She learned Negro spirituals from her grandmother, who was born a slave. Elzy set her eyes on becoming a professional singer. It was a farfetched dream, but nevertheless, she wanted to follow her dreams.
Her big break came in 1927, she was a freshman at Mississippi's Rust College and was overheard singing by Dr. Charles Chester McCracken. McCracken was a professor at Ohio State University and was visiting the college that day. He later became Elzy's mentor and the closest person she would ever have as a father figure.
She soon left the South and enrolled at Ohio State University. However, once she got to Ohio, she realized that things were not that much different than the South. She was met with racism and discrimination when trying to attend a movie for the first time. In school, there were white students who refused to sit next to her in the University Chorus.
Nevertheless, attending Ohio State University help Elzy in many other ways. By the time she graduated, she was able to read and write music, play the piano, and perform in four languages.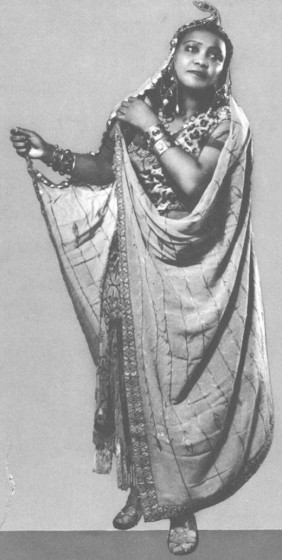 After graduating, Ruby decided to move east on a Rosenwald Fellowship to study at the famed Juilliard School of Music in New York City, where she received two graduate degrees. While still a student there, Ruby made her Broadway debut and began her network radio appearances.
In 1933, the choir was hired to appear in the film version of "Emperor Jones," starring the great singer-actor Paul Robeson. The producers needed an actress to play the small but important role of Dolly in the picture; she was cast as Ruby. In addition, she appeared in "Porgy and Bess" and starred on stage in "Run Little Chillun" and "John Henry."
In October 1937, Ruby Elzy made her New York recital debut at Town Hall. Two months later, she sang at the White House, at the invitation of First Lady Eleanor Roosevelt. It was the highpoint of her career. In 1943, Ruby Elzy died in Detroit, following surgery to remove a benign tumor. She was only 35 years old.
source:
http://www.afrovoices.com/elzy.html