Sam Lucas was an actor, comedian, singer, and songwriter. He was the first black man to portray the role of Uncle Tom on both stage and screen.
Lucas was born Samuel Mildmay Lucas (or Samuel Lucas Milady in Washington Court House, Ohio to free black parents. The exact date of his birth is unknown. At a very young age, he showed a talent for guitar and singing as a teenager, and while working as a barber, his local performances gained him a positive reputation.
Lucas began his career in blackface minstrelsy in 1858 traveling with a black minstrel company, he later became one of the first African Americans to branch out into more serious drama, with roles in seminal works such as The Creole Show and A Trip to Coontown. James Weldon Johnson described him as the "Grand Old Man of the Negro Stage".
In 1878, Charles and Gustave Frohman needed an advertising gimmick to help rescue a poorly performing comedy troupe. Their answer was to stage a serious production of Uncle Tom's Cabin with a black man in the lead role. Lucas's reputation as an actor was well known, as was his wealth; Gustave wired Charles, "Get me an Eva and send her down with Sam Lucas. Be sure to tell Sam to bring his diamonds. Lucas became the first black man to play Uncle Tom in a serious production.
From 1905-, he starred in Rufus Rastus, which was directed by Ernest Hogan. Lucas later performed in another original musical comedy The Red Moon, portraying Bill Webster, a barber. The Red Moon ran from May 3, 1909, to May 29, 1909. The Red Moon was also a three-act musical, but set in fictional "Swamptown, Virginia."
In 1914, Lucas revived his role of Uncle Tom in William Robert Daly's film adaptation of Harriet Beecher Stowe's Uncle Tom's Cabin. He is generally credited as the first black man to portray Uncle Tom, who had typically been played by white actors in black face. The film was released on August 10, 1914 by the World Film Company.  After completing Uncle Tom's Cabin, Lucas, believed to be 67 years old, died in 1916 from pneumonia.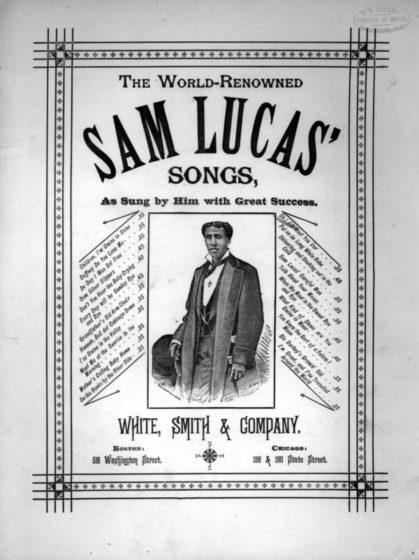 sources:
https://en.wikipedia.org/wiki/Sam_Lucas