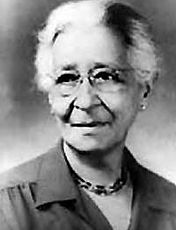 Selena Sloan Butler is the founder and first president of the National Congress of Colored Parents and Teachers Association. She was appointed by President Herbert Hoover to the White House Conference on Child Health and Protection in 1929. During World War II, she organized the Red Cross' first black women's chapter of "Gray Ladies."
When Congress merged the NCCPT with the National PTA in 1970, Butler was posthumously recognized as one of the organization's founders. Today, Butler is considered a co-founder of the National Parent-Teacher Association.
Butler was born in Thomasville, Georgia, to William Sloan and Winnie Williams on January 4 around the year 1872, just seven years after slavery was abolished. She attended a missionary-operated elementary school in Thomas County and studied at Spelman Seminary (later Spelman College). At the age of 16, Butler graduated from Spelman with a high school diploma in 1888 and began her teaching career in Atlanta. She later became a member of the Eta Sigma chapter of Sigma Gamma Rho sorority.
In Atlanta, she met her husband, Henry Rutherford Butler. They married and she accompanied him to Boston, where he attended Harvard. In 1895, they returned to Atlanta where Henry became one of the most prominent black physicians in the city.
As their son Henry, Jr. approached school age, she looked for a preschool. Finding none in her neighborhood – or in any black neighborhood in the city – she started a kindergarten in her home. When her son entered elementary school, she began seeking ways to help parents get involved in their children's education. Enlisting support from other parents, Butler organized the first black Parent-Teacher Association in the United States at Yonge Street School.
Using her teaching experience, she worked toward establishing a statewide black Parent-Teacher Association. With her help, a group named the National Congress of Colored Parents and Teachers appeared a few years later. This group maintained close contact with the white Parent-Teacher Association and modeled its policies in cooperation with that organization. However, the institutions did not organize until after Butler's death.
sources:
http://www.nrpa.org/uploadedFiles/nrpaorg/About_NRPA/Initiatives/Parks_Build_Community/Selena%20S.%20Butler%20Bio.pdf
http://www.georgiawomen.org/copy-of-carson-mccullers-4